Halloween Horror Nights, Howl O Scream, Mickey's Not so Scary Halloween Party, all huge names in Central Florida when it comes to Halloween fun. They all take huge budgets and mix them with seemingly unlimited amounts of people to make some great, scary houses. Enter the Haunted Grimm House at Old Town in Kissimmee.



The legend of the Haunted Grimm House runs back about 100 years when Kissimmee was just a swamp, way back before Disney said "Drain that sucker". Back then the Grimm family were extremely wealthy and had tons of power by being pretty much the only funeral parlor in town. They had a black mark on the family..their son. Their son was extremely insane, which drove the butler to murder. Some years later the historical complex known as "Old Town" sprung up around the Grimm house, yet anytime there came any talk of destroying it…bad things would happen. So in 1993 the Old Town City Council decided to open the house to the public, though they would not be responsible for anything that would happen to those who toured the house.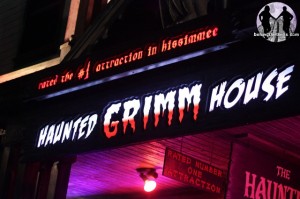 It's a fun story told by a group of energetic actors who spill out into the street night after night luring the unsuspecting into the house to scare the living hell out of them.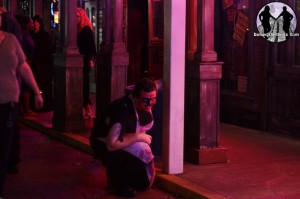 The house itself is full of stairs and darkness. You spend a lot of time in the very disorienting darkness bumping into walls and feeling like everything is closing in around you. And that's only the downstairs. Once you go upstairs you're subjected to some fun tricks, and a lot of different scenes.
The Good
The Grimm House has a lot of long corridors and the actors really spend the time building up the atmosphere. They use what they have to a tee and as a result get some really great scares. The cast is really into their parts and really throws a lot of energy into the scares. They are some of the best I've seen in the Orlando area, relying on themselves and perfect timing rather than boo doors, corny phrases, props or timed switches. I feel a little jaded when it comes to being scared, but I jumped quite a few times.
The Bad
There was a cast of about five to ten people standing outside. The house used two of them for the performance, and only one was doing the scaring. A lot of the props looked a little run down, and there was even a "SAW" sequence in the house in which you had to listen to a garbled message. The props felt hand made, and could be done just a little bit more professionally in some cases…though I think in the case of some of the props that's precisely what they went for, the pyschotic scrawlings of a demented freak. My biggest complaint about the house was that it ended with a long walk down a narrow hallway. No big huge bang, no last reach out and grab you.
What to know
The first part of the house is in utter darkness. You can't see anything
There are stairs, if you have a disability you may not be able to experience this attraction
It's a very intense experience, children who have not experienced a lot of haunts should sit this one out.
The actors get in your face, but do not touch you. Touching is also not tolerated….if you tend to spring out when you get scared,chances are you'll be kicked out and possibly arrested
No photography or video taping in the house
The experience costs $12.50 for adults. There is a child price, but I strongly recommend against taking the kids
Overall the house is a lot of fun and worth taking a tour of. Again the actors had so much energy and knew the timing of the house perfectly. They knew when to spring and when you would scream. I had more fun in the ten minutes it took to walk through this house than I did with an evening of chasing zombies at another event.