Last month Walt Disney Corporation announced a partnership with Fox Filmed Entertainment and Lightstorm Entertainment to bring the movie, Avatar to life at Disney's Animal Kingdom. Although the project was just recently announced, James Cameron has already explored Animal Kingdom for part of the development process for the expansion.
Earlier this week, Cameron, Jon Landau (Lightstorm Entertainment producing partner of Cameron's), Tom Staggs (Chairman of Walt Disney Parks and Resort), and Joe Rohde (Imagineer) visited Animal Kindom (pictured above).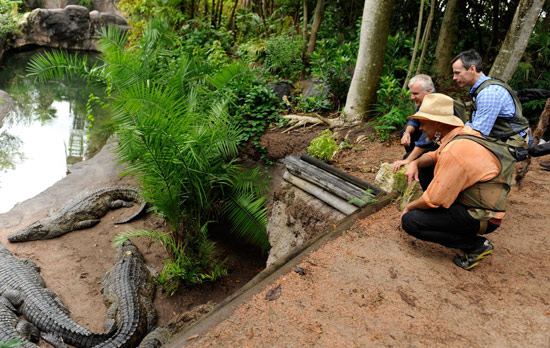 "Getting the chance to roll up my sleeves and explore Disney's Animal Kingdom from the inside out was a phenomenal experience," said James Cameron. "As I walked through the park, I kept imagining Pandora coming to life all around me and found my mind racing with all the possibilities of what we will be able to create in the years ahead. Disney's Animal Kingdom is truly a remarkable place and I can't think of a better home for our first AVATAR experience."
Construction for the Avatar-themed land at Animal Kingdom is expected to break ground sometime in 2013. For more information about Animal Kingdom, visit http://disneyworld.com.