By night Kings Island's Haunt will scare you, trick you and make you beg for mercy. But during the day kids can get a healthy dose of candy…and Dinosaurs! Kids (and anyone) can trick or treat in the all new Dinosaurs Alive! exhibit at Kings Island every weekend.
Dinosaurs Alive! made it's debut this Spring at Kings Island to rave reviews, and will  open next year at several other Cedar Fair parks including Cedar Point and Carowinds.  For now guests can Trick Or Treat with over 60 life sized dinosaurs every Saturday and Sunday. The cost of Dinosaurs Alive! is $5 dollars per person, and Trick or Treating with the Dinosaurs is free with admission to Dinosaurs Alive!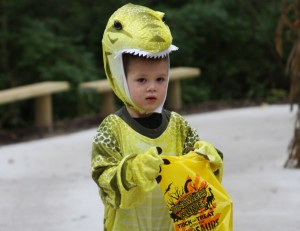 Guests can grab candy from 11a.m. until 6 p.m. and while costumes are welcomed, they are not mandatory.
Once guests get their fill of candy they can stay for Halloween Haunt which begins at 7p.m. and runs until 1 a.m.
Dinosaurs Alive! and Trick or Treating is approved for all ages, while Halloween Haunt is not recommended for children under 13.
For more information, and to save up to $23 dollars on tickets when you purchase in advance, visit the official Kings Island website.