The best time of the year is quickly winding down as most haunts are running into their final weekend as Halloween is coming up this Monday. Morey's Fears at Morey's Piers is no exception to this. This Friday and Saturday are the final days to experience Morey's Fears before haunt season ends.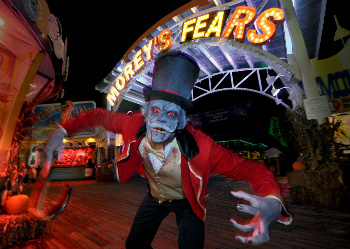 Morey's Fears combines seven of Mariner's Landing most thrilling rides to create a "supercharged" Ghost Ship experience, plus two all new attractions: CarnEvil's Creepy Clown Crawl, and Cornstalkers.
"Our survey results are overwhelmingly positive," said Dino Fazio, Director of Pier Operations. "Every guest we spoke with rated the event between very good and outstanding. 90% of those surveyed say they will definitely return next year, with the remaining 10% indicating they are likely to return in 2012."
This video perfectly highlights the event.
httpvh://www.youtube.com/watch?v=YKo30SNIziU
From 6:30-11pm this Friday and Saturday, you can visit Morey's Fears for only $25. Admission includes unlimited access to all available rides and attractions for the entire night. Tickets can be purchased in advance online at www.moreyspiers.com to save time at the gate.
For more information about Morey's Fears, visit www.moreyspiers.com/fears or call 609-522-3900.