Old Town has been a staple of Central Florida culture for quite a long time. Old Town features tons of carnival style rides, two small coasters, thrill rides such as the slingshot, a zip line and now a huge rope course. But Halloween had gone unnoticed, until now. Old Town will be featuring a free Halloween celebration weekends in October. Did we mention it's free?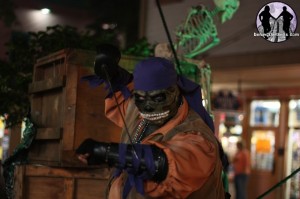 The event features scareactors, live music, a costume contest, and trick or treating for the kids. All of the regular Old Town shops and restaurants are open for business, as well as all of the rides.


Guests can mingle with the "Orlando Ghostbusters" a troop of paranormal researchers that come in full Ghostbusters gear. You can also stop by their store and purchase T-Shirts, take your picture with Vigo and Stay Puft, and more.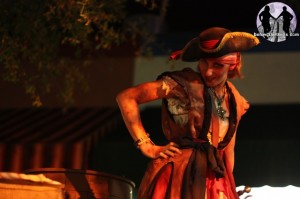 Pirates and pirate ghosts from the Orlando favorite "Pirates Dinner Adventure" roam the area and interact with guests. There's even a live DJ Booth….errr…Pirate Ship set up with impromptu dance contests.


Classic monsters, Star Wars characters and zombies also round up the festivities. All throughout the night hoardes of zombies do a rendition of Thriller as a band plays on. The highlight of the event is the Grimm Haunted House. It's not included with admission, but definitely a lot of fun(review coming soon).
People are encouraged to bring pets and dress them up, as well as dress up themselves. The whole event is free, though rides, food and the Grimm house are not included in the event. The event is family friendly, and all of the scares are mild at best. We're not talking Halloween Horror Nights level scares or props, just a lot of fun and a lot of energy. The area does allow drinking.
[flickr-gallery mode="photoset" photoset="72157627966013708″]
For more information including prices visit the official Old Town Website.
For a special discount on ride wristbands, visit Half Off depot