Seaworld's Halloween Spooktacular isn't just an event for kids. Spooktacular is great for the whole family. While the event caters mostly towards kids, there is still plenty of fun to be had for parents whether it's raining or the sun is shining.
Apple Decorating – Who doesn't love candy apples? For only a few dollars, you can decorate a caramel, white chocolate or chocolate apple. Once you've picked your coating, now you pick your toppings. Toppings include: Candy Corn, Sprinkles, Marsh Mellows, Black Licorice, Gummy Brains, and Reese Pieces.
It's a lot of fun for both parents and kids.. just be sure as soon as they give you your apple, go decorate! Waiting too long will cause problems with candy not sticking to the apple. Seaworld also offers 'to-go' boxes, so you can choose to take it home if you wish.
httpvh://www.youtube.com/watch?v=jNP6hSq8tMM
Sand Art – When you think of sand art, don't you think of bottles you pour sand into? I know I do! Seaworld offers a very different type of sand art, however. You choose from various sea-creatures including Sea Horses, Fish, Dolphins, Turtles, and more, and then you decorate the shape of the item in the sand. Seaworld then takes your art and hardens it so you can take it home.
Trick or Treating – Anyone can trick or treat, but this is mostly fun for kids. Seaworld offers a wide variety of candy, including healthier items like lady fingers (very small bananas) and peanuts. There are a bunch of different candy stations scattered through out the Bayside Stadium area until you're almost to Wild Arctic.
Wearing your costume – Seaworld encourages kids to dress up in their costumes when they come out to Spooktacular.
Penelope's Party Zone – This area is  a lot of fun too. You'll find Sand Art and Apple Decorating here, as well as an area for kids to get up and dance and meet with some of their favorite spooktacular characters, including Penelope the Pumpkin Fish! This is also a great place for mom and dad to relax while the little ones dance.


Roaming characters – Characters aren't limited to Penelope's Party Zone. Through out the whole Bayside area, kids can meet various creatures and get their photo with them.
[flickr-gallery mode="photoset" photoset="72157627918042004″]
"SCVNGR" app – Seaworld launched an app this year called "SCVNGR". The app has various challenges that you can complete to win a limited edition prize (a shamu lunch box). The app isn't just for Seaworld, so you can continue using it long after Spooktacular is over. Click here to read more information about the app.
Rides, shows, animals, and more – Seaworld's Spooktacular begins at noon on Saturdays and Sundays in October and is included with park admission. That means all the rides, shows, and animals within Seaworld are also included with admission! Families can arrive at park opening and experience the rides and shows and then enjoy all Spooktacular has to offer.
httpvh://www.youtube.com/watch?v=XVDu_AMECzw
If it's raining, have no fear. Spooktacular will still be open! During high winds and heavy rain, some of the trick or treating and roaming characters will be moved inside to Wild Arctic and some will be moved into the booths along the Bayside Pathway. Even though it's very wet, it's still a lot of fun!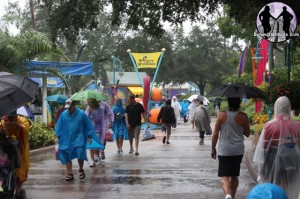 [flickr-gallery mode="photoset" photoset="72157627918042004″]
Seaworld's Halloween Spooktacular is each Saturday and Sunday in the month of October. For more information, visit http://seaworldspooktacular.com.