This year marks a milestone for horror fans everywhere as John Carpenter's "The THING" get's a lot of attention. The film takes us on a journey to Outpost 31 in Antarctica, where an alien life form takes on the shape of anyone it kills. This year the film is getting not only a prequel, but two houses at Universal's Halloween Horror Nights, one in Orlando, one in Hollywood. For the next seven days we're going to take a look at not only the John Carpenter film, but also everyTHING that has inspired it and was inspired by that film. In other words…Now I'm going to show you what I already know.

Day 5:Assimilation


A short story spawned a legacy of terror. Like the creature in the story, The Thing took over every platform that it devoured, morphing itself into variation after variation, each one unique in it's own special way. But it seemed as if the closest thing you could get to actually living the story was through the video game or radio play. Then in 2007 Universal Orlando announced that they would be bringing John Carpenter's classic Antarctic tale or paranoia, deception and walking heads to life as a maze during their annual festival of madness, mayhem and blood..Halloween Horror Nights.
The film was celebrating it's 25th anniversary, and what better way to do it than to continue the story from the John Carpenter film. Michael Roddy, Mike Aiello and the entire Universal creative team worked to not only bring the story to life, but to bring it to life in such a way to actually make it scary. The house was part of "Jack's Carnival of Carnage" in which each house was a piece of the carnival. The Thing was a beast locked in a cage behind a truck separate from the rest of the carnival.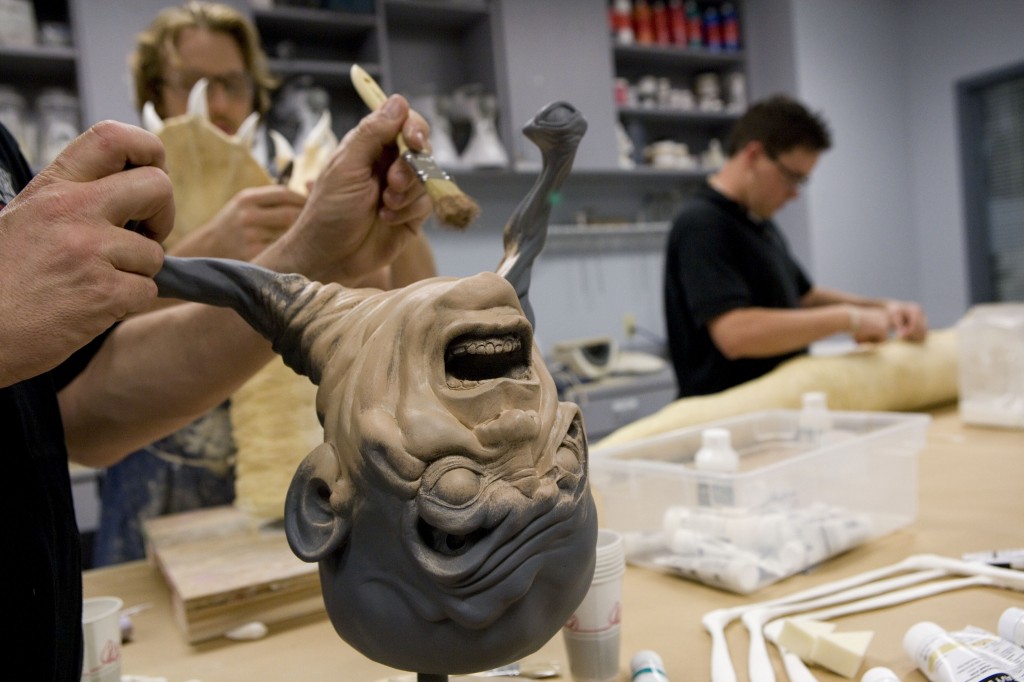 The house told the story of researchers going to the long abandoned Antarctic Outpost 31. Expecting to find only ruins they found something in the ice, something that they weren't sure about. They brought it back to Florida to be studied and opened the research facility to the public. Apparently they underestimated the warm weather that Florida is known for and the Thing in the ice grew out of control taking over many that walked the halls of the facility.
As guests walk through the facility they are caught right in the cross-fire between soldiers, researchers and those who are being attacked by the monster. Sitting ominously are MacReady and Childs, both unconscious and unfrozen. As the film suggested, one of them was the Thing..but which one? Continuity wise, the house wove in and out of what made sense. Scare wise…
httpvh://www.youtube.com/watch?v=Lz_aZrOctPA&feature=related
The creators of the house used things they had never really used before in houses. From masks to animatronics to puppets, designers fitted actors with state of the art tools needed to scare the crap out of guests. Utilizing things like boo doors and surprise scares, designers used old tricks combined with new designs to do just that. Machine guns would blare in your ears as doctors and soldiers were drug off set by huge tentacles and claws. Just as in the film, what you don't see is more effective as the designers play with your head. Then just as you've become complacent with your surroundings, they hit you with an eight foot tall dog monster puppet. It was scream inducing and turned me into a 12 year old girl instantly. Dog monsters, claws and spider heads made The Thing:Assimilation a fan favorite. A favorite that would come back at least once more as the part of another house, Silver Screams.
For more information about Halloween Horror Nights Orlando, home of the Thing haunted house, visit the official website.
For more information about Halloween Horror Nights Hollywood, home of The Thing:Assmilation visit their official website.