The Wizarding World of Harry Potter has been absolutely huge for Universal Orlando Resort. It has seen the park's attendance jump in leaps and bounds over the past year, with no signs of slowing. It has created a juggernaut of merchandise and have gotten people to stay a few less days on their Walt Disney World Vacation. So would a second Harry Potter themed area make sense in another park?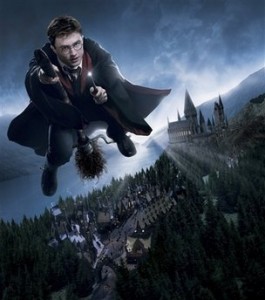 According to the Wall Street Journal, not only does it make sense, but the deal is already underway.
Plans are said to already be underway to bring a second Harry Potter themed land to Universal Studios Hollywood. The park will soon be opening the mega sized "Transformers" Ride in 2012. But two big questions remain. What will the area include, and where will the area be built?
The first question is most likely the biggest question on the minds of many fans. Will the area be an exact replica of the Orlando Wizarding World? Will it take more of a "movie studio" approach? Universal Hollywood is an actual working movie studio with several productions happening on the lots daily. The actual sets are being turned into an attraction at Leavesden Studios in London and features props and set pieces from the films. Could we see another Hogwarts castle, or could the rumors of a Harry Potter expansion in Orlando just be the planning stages of another park altogether? Some of the rumored expansion plans call for a "Diagon Alley" section of the park, with a "Gringotts Bank" mine coaster that takes riders throughout the vaults of the bank.
The other question is of course where will Universal Hollywood put the Wizarding World? Universal Orlando closed 3/4 of the "Lost Continent" area and incorporated two existing coasters and a restaurant into the new land. Universal Hollywood is very tight on space, and it could be a matter of closing more than just one ride.


There are no major outdoor rides at Universal Hollywood, and more shows and simulators than coasters or rides. Could we see attractions such as Waterworld, Shrek and the Simpsons hit the chopping block? If it means increasing the attendance and profit levels, then it's a pretty safe bet.
Perhaps everyone is jumping the gun, as all expansions have to get the approval of series creator J.K. Rowling who had a hand, and a lot of the final say in the design of the Wizarding World of Harry Potter in Orlando. Still, the report says that if the park is successful in Hollywood, more parks could be on the way, with perhaps larger areas built in Japan, or Singapore.
More on this as it develops.
For more information, pictures and video on Universal Orlando's Wizarding World of Harry Potter, check out our archives!
For tickets and information visit the official website.