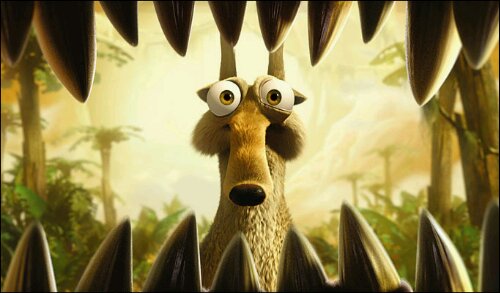 Harry Potter, Avatar….Scrat? When it comes to converting films into theme park attractions, some properties are ripe for adaptation, and others seem…well…cold. However, Twentieth Century Fox Consumer Products has teamed with SimEx-Iwerks and Merlin Entertainment for a project that they hope will sizzle. The three companies are working together to bring the blockbuster Ice Age franchise to life with the debut of the world's first fully immersive Ice Age attraction featuring Ice Age Dawn of the Dinosaurs – The 4-D Experience.
The attractions will premier at Alton Towers in the UK and Italy's Gardaland when the parks open for the 2012 season.
httpvh://www.youtube.com/watch?v=n0ykM1ALggE
In addition to the films the guests will be able to play in an interactive Ice Age play area. Guests at Alton Towers Resort will also be able to book one of two Ice Age suites.
"Our partnership with Merlin, the world's No 2 and Europe's No 1 operator, is a wonderful opportunity for the Ice Age franchise and a strong cornerstone for our strategy to develop location based entertainment opportunities that will deeply connect consumers with our brands through immersive experiences. The planned attractions and live events also create all-new incremental merchandising opportunities and sales for all of our partners," said Robert Marick, Executive Vice President of Fox Consumer Products
This could be the beginning of not only many Ice Age attractions, but also the start of entire Ice Age areas within Merlin theme parks. The new attractions will also offer Ice Age merchandise as well as photo opportunities with characters from the films.
The Ice Age series is the mist successful family franchise at Twentieth Century Fox, which roll out an all new Christmas Television special this year, but also a fourth film next July.