With Thanksgiving just over a week away, Walt Disney World has already rolled out the Christmas celebration at the Magic Kingdom with Mickey's Very Merry Christmas Party. The party is an extra ticket event which gives guests exclusive access to Christmas shows, celebrations, parades and hot chocolate!
Mickey's Very Merry Christmas Party is a separate ticket event, meaning that if you purchase a ticket to the Magic Kingdom on a day that they are having the Christmas Party, you will have to leave early. You will also have to buy a ticket to the Christmas Party, which is not included in your daily admission.
What is it?
Mickey's Very Merry Christmas Party (MVMCP) is an event that celebrates the Holidays with special Christmas themed shows, characters, parade and fireworks. One of the highlights to the Christmas Party is that you get all the hot chocolate,  and cookies you can handle. If you or your little ones can't handle all that sugar, or you simply need a break, apple juice and apple slices are also provided.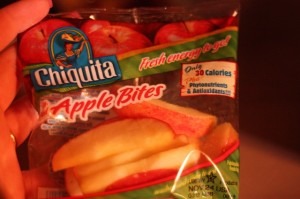 In addition to all the holiday shows and entertainment, the majority of the attractions are also open. A highlight of the Christmas entertainment is the transformation of Cinderella's castle into a sparkling Ice covered wonderland.
httpvh://www.youtube.com/watch?v=DXO2lzcr4Q4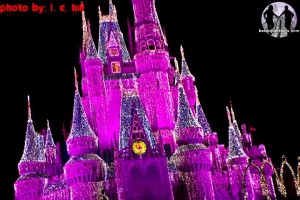 Mickey's Once upon a Christmastime parade shows twice nightly, but the parade is wildly popular. If you want good seats, plan on sitting in your spot for at least thirty minutes.
Just about every single Disney character makes an appearance in the parade, including Mickey, Minnie, The Princesses, and the Toy Story Gang.
There's even an appearance by reindeer, elves and of course it wouldn't be a Christmas Parade without Santa Claus direct from the North Pole.
There are also a tons of live shows and characters out and about. Another of the big shows happens right in front of Cinderella's Castle. Celebrate the Season has all your favorite Disney characters celebrating the holiday season in their special way.
The castle projection show that takes pictures from the day and puts them directly on Cinderella's Castle, The Magic The Memories and You, has an all new holiday segment which turns Cinderella's Castle into a giant Gingerbread House.
httpvh://www.youtube.com/watch?v=SMB8Gscb1Qg
The nightly fireworks spectacular "Wishes" gets the Christmas makeover as dazzling fireworks are shot to a Christmas soundtrack.
httpvh://www.youtube.com/watch?v=CKKhIxN0kmA
Things to know
Disney is a huge and wonderful place, but it could also be a bit overwhelming and easy to miss quite a few things during the Holiday Party. While we're not exactly Disney "experts" we have a few things that helped us to make the most out of our visit.
Arrive Early-The party doesn't start until 7p.m. but ticket holders are allowed admission as early as 4p.m. This gives you time to check out a few more rides and shows.
Castle Lighting-There is a special show that happens only once. It's a big production, and it happens around 6p.m. Watch as Cinderella's Castle transforms into a holiday masterpiece with thousands of sparkling LED lights.
Lesser waits-On certain nights, the wait time for the normally busy attractions are considerably less than the daytime. This is because the Christmas party actually has a smaller capacity, and the daytime guests leave. We saw rides such as Dumbo with a ten minute wait, and rides like Haunted Mansion at a walk on.
Find a spot and stay-If you are looking to watch the parade, find a spot early on and stay there. The castle show and Fireworks work the same way. In fact the fireworks start five minutes after the castle show.
Best spot-If you want a great spot to watch the castle shows and fireworks, right in front of the castle in the "hub" is the best view. It's also the most crowded. Try to find a place a little off to the side and off the main paths. We actually sat inside the Crystal Palace and could see everything wonderfully.
Stay late-The party lasts until midnight. Parents with little ones will usually clear out after the first parade and the fireworks. Use that time to get more cookies and ride more rides. The lines will be considerably shorter at that time.
Buy your tickets in advance-If you purchase your tickets online you can not only guarantee that the event isn't sold out on the nights you want to go, but you can also save money. Depending on the date you can save as much as six dollars. Purchase them online by clicking here.
Overall if you consider that a single day admission to the Magic Kingdom is around $85 dollars and weigh it against the price of the Christmas Party (around $60 dollars, depending on date) the Christmas Party ends up being a great deal. You get not only a minimum of five hours at Disney, but free cookies and hot chocolate as well as shows and displays that aren't available to regular guests until closer to Christmas. You also get to have considerably lighter crowds if you choose your dates wisely. The closer to Christmas it gets, the more crowded the parks get.
Check out our full gallery of MVMCP pics!
For more information, including tickets visit the official MVMCP website!