Here at Behind the Thrills, we love us some Theme Parks. No doubt about it. However, there is a great big world out there, and sometimes we need to take a step out of the parks and look at something else. Join us as we take a look outside of the world of theme parks and into the world of movies, music, television, hotels…pretty much anything else we happen to stumble across.
However whatever we look at will have some relation to the theme park world, granted not directly…but in a round about sort of way.
So join us now as we lift up the harnesses, put down our cup of Butterbeer and take a walk…Offsite.This week's Offsite Adventure-Decorating the house theme park style
Racheal has decided to take an offsite adventure this week gang…so expect the unexpected.
I will be the first to tell you how much I absolutely hate Christmas decorating because it requires work, spending tons of extra money to replace things that don't work anymore, and it requires a bit of creativity. Thankfully, I'm pretty lazy, I'm pretty broke, and I'm not very creative at all.
In 2009, we didn't decorate at all. We had intentions and pulled all our lights and stuff down from the attic and then Erik got pretty sick and was in the hospital and in a lot of pain for the holiday season. Decorating went out the window. Hey, at least we put a tree up! In 2010, we just moved and we were still settling in and never got around to it.  This year Erik and I changed that though. We made it a big point to decorate our home this year.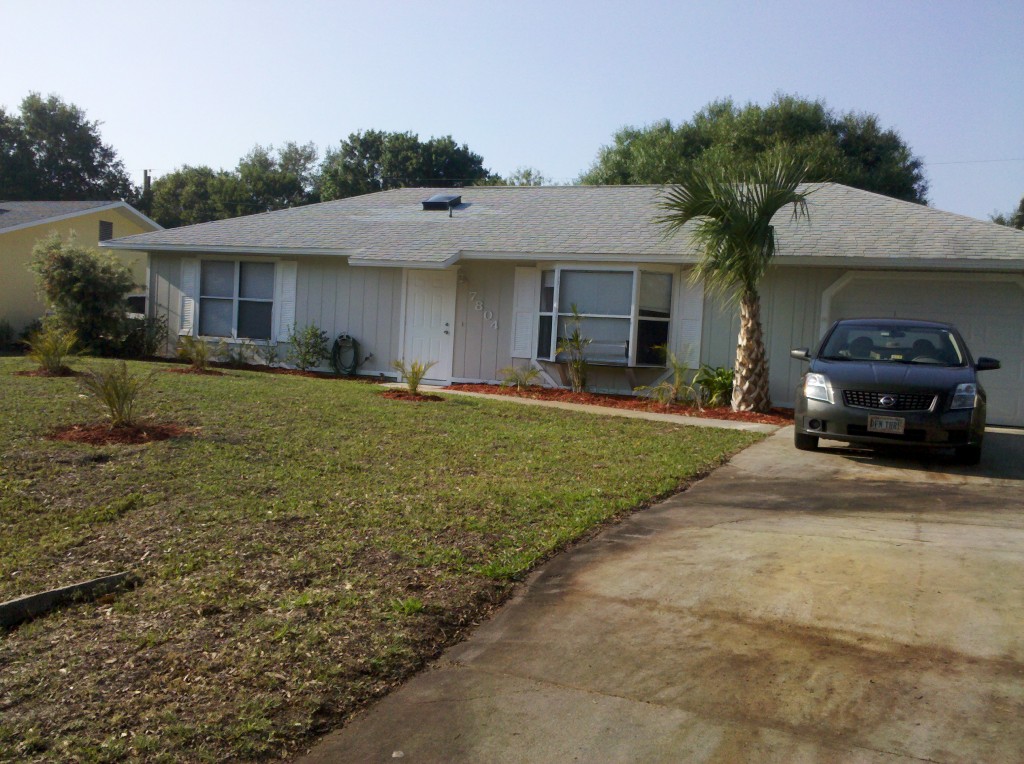 So, this is our house. Yeah, it's nothing big and fancy, but we like it. This is our first time decorating this house, so we decided to start fresh (as more than 3/4 of our lights didn't work anyway). We went out and purchased new lights to decorate with.
We ended up buying:
Light up Christmas Giraffe
White, Multi-colored, Red Lights
Twinkling Stars
Candy Cane path markers
Wreath
Lit Garland
Artifical Christmas tree
Phew, that's a long list. Over the course of the next few years, we are planning to purchase a yard decoration that kind of resembles theme parks. We saw the obvious ones at Walmart: the rotating bumper cars with Santa or a Snowman in them, but we found one that was a lot cooler.
How many people do you know have a Christmas giraffe in their yard? Well, we've got Busch Gardens Tampa covered this year. Maybe next year we'll look for a whale or dolphin to represent Seaworld?
Isn't he awesome?
So, six hours later, another trip to Lowes and Walmart, we've finally finished decorating, tree included (minus ornaments and lights). I'm pretty tired, but I think it was well worth it. The house looks amazing and I can't wait to light it up for the very first time tonight.
I won't show off pictures of our new Christmas tree, but I finally talked Erik into letting us buy an artificial Christmas tree over a real tree this year. Sure, it's been a tradition for quite a long time for Erik to purchase a real tree, but they're so hard to keep up with. They require watering, they shed pine needles, and eventually start to die in your living room. Did I mention you pretty much have to sweep your home every other day?!
We lit our lights for the very first time tonight. Doesn't it look beautiful?
Merry Christmas everyone and happy decorating!