Perez Hilton is known for bringing the celebrity dirt, and gossip to the internet from Tinsletown. Today, we have the dirt on him and Vampire Diaries star Kat Graham, as they were spotted at Busch Gardens Tampa getting a little "catty" with each other. Scandalous!


Okay, so I'm not really good at digging up celebrity dirt. I'll leave that bit to Perez. But Kat and Perez spent a day at Busch Gardens Tampa feeding Giraffes, spying on Kasi the youngest Cheetah at BGT, and riding Cheetah Hunt. It's all the rage.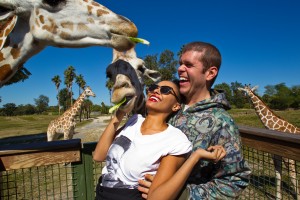 All pictures are courtesy of Busch Gardens Tampa Bay.
If you want to get some real dirt check out Perez Hilton doing what he does best, check out his official website.
For more information on Busch Gardens Tampa, including tickets, visit their website.