The Universal Orlando resort has been opened for just over twenty years, and in that time span the resort has not only grown, but has taken it's guests on many different journeys, through different worlds and into our own nightmares. Last week the Orange County Regional History Center opened the new exhibit "The Serious Art of Make Believe". It's a look at the Art and Design of some of our favorite attractions, and events that have happened at Universal Orlando Resort.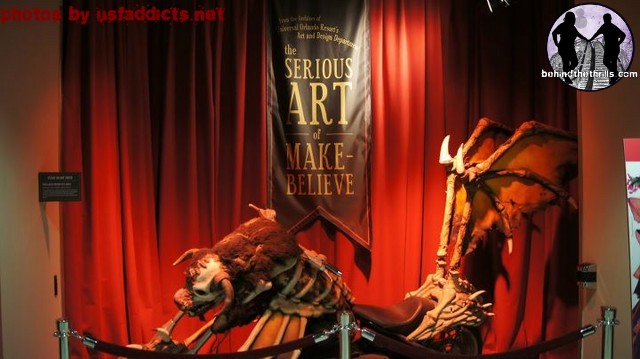 The History Center knows exactly what will pack the crowds in, as many of the huge showpieces from past Halloween Horror Nights are showcased front and center. There are tons of great little tidbits scattered about all about the ideas that went into the creation of a lot of the different concepts. The exhibit also features a mock up of "Jack's Carnival of Carnage" that was used on the Halloween Horror Nights 17 website.

Other great displays feature Christmas, the Grinch and of course Mardi Gras. There are also a lot of ways to interact with the exhibit with two drafting tables that allows kids and adults to get hands on with activities. Kids can trace some of the sketches, and adults can try their hand at free drawing something inspired by the art and designs. The exhibit is free with paid admission into the History Center, and runs daily from now until April 29th, 2012.
Check out more photos courtesy of USFAddicts.net
[flickr-gallery mode="photoset" photoset="72157628073770129″]
If you'd like to get up close and personal with the Creative team at Universal Orlando, the History Center will have two opportunities coming up very soon. On Thursday December 8th, the center will host a dinner and reception with twelve members of the art and design team. There will be a round table discussion followed by a Q&A session all about the art and design process at Universal Orlando. Tickets are $65 dollars for non-members.
Then on Sunday December 11th, the Art and Design team will be back for an informal meet and greet with fans who would like to ask questions about the art and the process. This event will be from 1-3p.m. and is included with museum admission.
For more information, including how to get tickets, visit the official website!
For all of our Halloween Horror Nights 21 coverage, make sure to click here!