Christmas has already begun at many of the Seaworld parks, including Seaworld San Antonio. The event isn't new, but this year prooves that everything is bigger in Texas, as Seaworld has several new Christmas treats to offer their park guests on select nights (click here to view the parks operating calendar). Now through January 1, 2012, you can experience Christmas at Seaworld Texas.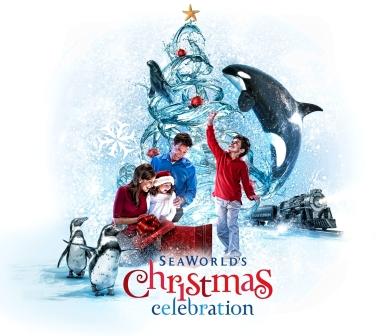 Seaworld Texas is offering quite a bit this year for their Christmas Celebration with a total of six new additions to the event for 2011. Here's a complete run-down of the event and their Christmas festivities.
Shows
A Dolphin Christmas – New for 2011
A Dolphin Christmas will feature Beluga Whales, Pacific White Sided Dolphins, and more.
Reflections – New for 2011
Reflections is a great way to reflect on the day at Seaworld. At the end of the day in the Entrance Plaza, Seaworld will host a guest sing along, plus some special effects. Be sure to purchase a Seaworld event candle to help add to the ambiance.
Elmo's Christmas Wish – New for 2011
Join Elmo and his friends in Sesame Street Bay of Play as they help Elmo to find his Christmas wish.
Shamu Christmas Miracles
Shamu's Christmas Miracles is a story of reflection and understanding, peace and friendship, and every day miracles. With seasonal music, sounds, and the "oh's" and "ah's" that Shamu creates, it's another perfect way to get yourself in the holiday spirit.
A Sesame Street Christmas
Sesame Street friends are at Seaworld and a ready for a fun and festive celebration for the season, however Abby Cadabby doesn't understand what it's all about.. Abby has never heard of Christmas! Her friends from Sesame Street teach Abby what Christmas means to them.
The Polar Express
Catch at ride from Seaworld to the North Pole as you're taken into scenes directly from the movie, The Polar Express. The movies comes to life as guests are immersed into the story of the young boy's world.
Sights and Sounds
Nutcrackers – New for 2011
The Beluga Stadium comes alive with stilt-walker Nutcrackers. They're a sight (and performance) you won't want to miss.
Mistletoe Man – New for 2011
Mistletoe Man was part of an old legend of a sprite (defined as an elf, fairy or goblin). Anyone who gets near the Mistletoe Man will surely feel his holiday cheer as he spreads it to all!
Treetop Angel – New for 2011
The Treetop Angel has come straight from the top of the Christmas tree. Seaworld's "Christmas Princess" is available beginning at 4pm in the front of the park for photo opportunities. Don't forget your camera as it's a great opportunity for a family photo!
Christmas Market
Pose with a 12-foot Cowboy Boot tree, or purchase Texas-style Christmas items like wreaths made of Cactus.
Seaworld's Santa
Through December 24th, Santa will greet guests inside the Christmas Market. This is another great opportunity for a great family photo!
Candy Cane Forest
Located just near the Seafire Inn, guests can enjoy a self-guided tour of the Candy Cane Forest. Guests will come face to face with red and white lit candy canes, some as tall as 8 feet!
Snowman Village
Located in the Penguin Plaza, guests can get their photos with Snowmen, including "The Rocker", "The Punker" and "The King".
Dining Experiences
Sesame Street Brunch
You and your family can enjoy a delicious "brunch" with some of the characters from Sesame Street. Adults: $27.95, Children (3-9): $19.95; Pass members get 20% off! Click here to book your dining experience.
Santa's Fireside Feast
Enjoy a holiday feast and a fireside story-telling of "'Twas the Night Before Christmas" by Santa Claus himself. Adults: $29.99, Children (3-9): $24.99; Pass members get 20% off! Click here to book your dining experience.
Milk and Cookies with Santa
Enjoy cookies and milk with Mr. and Mrs. Claus and even get your photos with them! Reservation for 2 people: $11.99, Reservation for 4 people: $21.99; Pass members get 20% off! Click here to book your dining experience.
For more information about Seaworld San Antonio (Texas), visit http://seaworldparks.com/seaworld-sanantonio.