With the opening of the Wooden Warrior at Quassy park this summer, the little park is fast becoming a big name for family entertainment. With that steam behind them, the park is adding yet another family friendly attraction this time made by ride manufacturer Zamperla.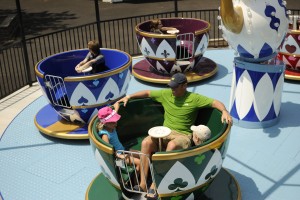 An all new Zamperla "Tea Cup" is coming to the park for the 2012 season.
"We're extremely excited about the addition of the new attraction," park President Eric Anderson said in unveiling the plans for the ride. "We came off an exceptional 2011 season thanks greatly in part to our new roller coaster. That afforded us the opportunity to bring in the new tea cup ride."
"This new ride really fits into who and what Quassy is – family," asserted George Frantzis II, a park owner. "The particular model we purchased will allow families to experience the ride together and control the spinning action."
The park will also give fans and guests the chance to name the new ride, giving it a unique "spin" for the new park. Details on that contest will come later.
For more information, visit the official Quassy website.