It feels like forever since we've done a Thrill Daily article. It's way overdue to return.. So here it is!
Cedar Point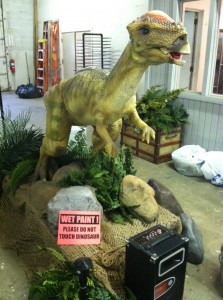 Cedar Point shared this photo recently on their Facebook wall. This is "Patchy", the Pachycephalosaurus. He will be traveling through out the region this winter. It seems many fans are still quite upset that Cedar Point decided to add Dinosaurs Alive rather than adding another roller coaster. You can read some of the comments here.
Aquatica Texas
May is getting closer! Aquatica Texas says the underwater tunnel glass for Stingray Falls will be installed this week. Here's the latest look at construction on Stingray Falls.
Morey's Piers
Morey's Piers is hosting a giveaway every day now through Christmas. There's still 10 days left to enter. Each day they will be drawing winners for prizes. Click here to enter! Good luck!
Carowinds
New construction photos of Windseeker have been posted to Carowind's Facebook wall.
You can view more pictures here.
Disney
The Disney Parade that filmed a few weeks ago will be airing on ABC on Christmas Day. Here's a listing of the showtimes if you are interested in watching it.
Eastern Time: noon-2pm
Central Time: 11am-1pm
Mountain Time: 10am-noon
Pacific Time: 9am-11am
Hawaii: 7am-9am
New York City, Philadelphia, Chicago, Huston, Raleigh: 10am-noon
Double check your local listings to verify your city will not be playing the parade at a different time than listed above.
Quassy
Quassy has made their educational programs more comprehensive than ever before. With the addition of Wooden Warrior in 2011, they have added student projects to their workbook for the Physics portion of their educational program. Quassy even provides this workbook to the school before the trip so teaches can assign some of the work before the students visit Quassy. Quassy also offers a number of other educational programs for kids in elementary through high school, plus they  can assist in designing a program to meet the needs of a school's curriculum. For more information about the educational programs at Quassy, call 1-800-FOR-PARK or visit the official website.
Seaworld San Diego
On Monday, they teased this photo:
Yes, it's a beautiful paint job! What is it Seaworld San Diego asks? It's the paint job on the front of Manta's car. Here's a few shots we captured from the IAAPA 2011 trade show.
[flickr-gallery mode="photoset" photoset="72157628073463809″]
Other
Ocean Breeze Waterpark announced they have partnered with Aquatic Development Group to build a lazy river attraction for 2012 season. Full story.
Ride of the Day
Gravity Group posted a new video to their youtube page highlighting Quassy Park's newest roller coaster, Wooden Warrior. Wooden Warrior placed in the top 50 wooden coasters in the world and was named third "Best New Ride" of 2011 in the world by Amusement Today's Golden Ticket Awards. Quassy was also presented with a Brass Ring Award at IAAPA 2011 for the park's marketing campaign.
httpvh://www.youtube.com/watch?v=RtYSte59Yb4