LegoLand Florida is planning to open a new water park for the 2012 Summer season. With tentative plans to open in May. The water park will boast features such as slides, playgrounds, a lazy river, and a wave pool. The park itself was originally built as an addition to Cypress Gardens, and some of those same attractions are being used as well.
The very surprising thing, right off the bat, is that the Legoland Water Park will hold on to just about all of the original water park, Splash Island. While all of the existing rides have undergone a rehab, they are all the same. When Legoland took over Cypress Gardens, it was pretty much a rebuild from the ground up, adding a ton of new attractions, and taking out the most intense rides left over from Cypress Gardens. While the entire park, like Legoland Florida itself, is aimed at families with children aged 2-12, there is a slide or two aimed at the older audience.
The water park is attached to the flagship park, and entry must be made through LegoLand. Guests can opt to upgrade their LegoLand park tickets for $12 to gain entry into the water park. A separate ticket booth will also be located at the entrance to the water park for guests who decide later to enter the water park.
For LegoLand pass holders, there will be an option to upgrade passes to include water park entry, as well as those planning to get a pass should expect a price of $179 + tax (children and seniors 60+ will pay $159 + tax).
Walking into the water park guests will see a new playground being built called DUPLO Splash Safari, which will have a pool with less than a foot of water, and is geared towards toddlers. Children will be able to play on DUPLO animals squirting water, as well as a central playground (Lego themed of course) with water jets shooting in different directions. This area is now being constructed so we only got to see concepts. Also upon entering there will be a restaurant, with bathrooms and lockers across from it.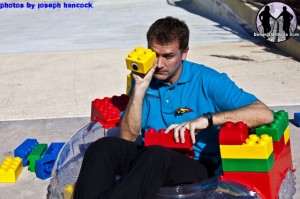 Next to the new playground will be the entrance to the lazy river or as LegoLand calls it, Build-A-Raft River. Those who frequent lazy rivers are used to seeing tubes, and in some cases life vests floating down the river not being used. However, guests at LegoLand will be pleasantly surprised to find huge Lego bricks scattered throughout the water way. The bricks can be attached to the tubes used to floating down the river, allowing guests to design and build their own unique floating vessels for their float around the river. The bricks are made of a rubbery plastic that floats and honestly, looks like it could be a blast to build with.
Crossing over the river, guests come to the Imagination Station, which is situated directly in front of the wave pool. Imagination Station features 2 interactive, educational areas where kids can create dams, bridges, or any other thing they can imagine out of DUPLO bricks. After the children have constructed their bricks, they get to test them against the flow of water and see how well they hold up. At the other stations, children use bricks to create mini water ways and canals, then run water through them to see how well they can control water. Also, there is a music station where children can become a conductor and create music by controlling water as it shoots out of a stand, creating different musical notes.
The wave pool situated behind the Imagination Station is a more relaxing spot, where the waves are just big enough for even the smallest child to enjoy. Seeing as how it is geared towards children, LegoLand opted out of larger waves in favor of a more gentle tide. As of now, it still looks like how LegoLand inherited it. Future plans call for Lego brick colors, as well as Lego statues (like those seen throughout the park) being situated on top of the wave pool (concept art shows a Lego surfer, and other beach related statues).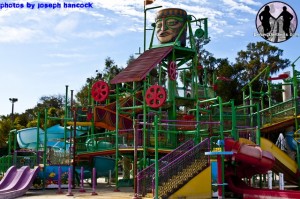 Finally, at the back of the park, are the Joker Soaker, and the larger water slides. Joker Soaker is a large interactive playground with many water slides that vary in length and height. The playground is situated in a large wading pool, and topped with a 300 gallon bucket that will washout unsuspecting guests at random times.
Twin Chasers is a 375ft intertwining set of slides that guests ride a tube down. At the end of the slide guests splash into a deep pool.
Splash Out, is a set of 3 slides, and are the highest in the water park. Guests choose which slide to go down, then plunge 60 feet at elevated speeds and create their own little tidal wave at the end (hence the name Splash Out).
The water park is part of LegoLand's further attempts to make the park a 2 day affair. While not as big as some of Central Florida's other water parks, LegoLand is way more kid friendly. Almost everything in this water park will include all members of the family. It is unknown what the height requirements are as of yet for the larger slides, but those are just a small slice of what the water park has to offer. Children of all ages (and adults) will be able to easily spend the day in this park, whether it be relaxing by the wave pool or floating on a custom tube. With the hot Winter we are already experiencing in Florida (everyone joked that the water park should have been open today), the Summer will beat us nearly to death, and with a price of $12 (with park admission) who wouldn't want to splash around, and with Legos at that!
Even more Legoland Waterpark goodness:


For more information about Legoland Florida, including tickets, visit the official website!
What do you think of the plans? Let us know in the comments below! Or if you have any specific questions about Legoland Florida, submit a question!