You can't keep a good shark down. Last week, the day after the Universal Orlando Classic Attraction was closed down for good, walls were put up all around Amity. One of the most beloved photo ops in the world was walled up, and suspected to never be seen again. It would appear that was a mistake.
The ever beloved "Bruce" the massive 20 foot shark hanging upside down right outside of Amity square in front of the JAWS ride, and bearing the wooden sign painted with the word "JAWS" on it, has returned…temporarily. We are told that the path for the Mardi Gras parade takes the parade right through the area, but if you look at the map on the official Mardi Gras website…it takes the same route that the Macy's parade does, in and out of Beetlejuice. Perhaps Universal wants to give us a little bit of happiness. If this is temporary, maybe someone should make a "Save Bruce" shirt…the plights of poor plastic hanging sharks could be brought to light.
Meanwhile, all along the rest of the wall, posters have been put up for some of Universal's most memorable films. This is most likely part of the 100th anniversary of Universal Orlando, though some are speculating that it's a clue to coming attraction. We doubt it.


Look closes…in the trees! It's a crane! Cranes have been spotted all week around the area as the lake is being drained from the JAWS ride.
More pictures around Amity:
Meanwhile, in mini-golf land…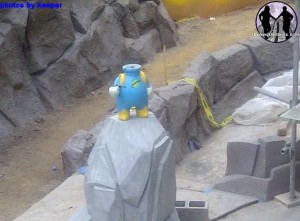 These little headless guys have been spotted before all covered up, now they're out in the open. The logo looks vaguely like a "Pizza Planet" logo from Toy Story….and the guys in question look remotely similar to the LGM's from that movie as well. No opening date has been given, though it has been revealed that when Hollywood Drive-In does open, they will be giving passholders the standard 10% discount.
More mini-golf:


Over at Islands of Adventure, Ripsaw falls is down for it's yearly maintenance.
At the big gift shop in the front of the park, a new section is under construction. A friendly store clerk has told us that more merchandise from the Wizarding World of Harry Potter is going in those areas, as well as an improved package pickup system.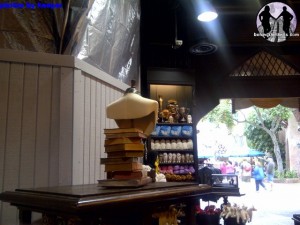 And finally, the paths around CityWalk are getting new themed merchandise carts…most look like they could carry HP merchandise.
More fun stuff around the parks: