Busch Gardens is making some serious progress on their brand new coaster for the 2012 season, Verbolten. Construction on the multi-launch coaster began in summer of 2011 at the park in the Oktoberfest. The new ride will take the place of the previous coaster, The Big Bad Wolf, which closed in September 2009. Verbolten will twist and turn rides in and out of the Black Forest and plunge riders towards the Rhine River.
httpvh://www.youtube.com/watch?v=RnCy8Tz1fe8
On January 17th, Busch Gardens installed the final piece of Verbolten's track. Verbolten's track is a total of 2,835 feet long.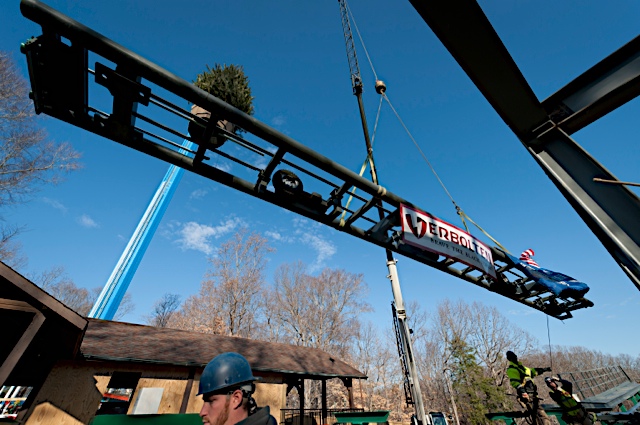 According to Larry Giles, Vice President of Design and Engineering at the park, "Work on Verbolten is progressing on schedule… Completing the track is a major achievement. We still have a lot of work to do on the ride's theme elements and special effects, but we anticipate the ride will be ready for a late spring opening."
Verbolten will have a total of five trains, each a different color and with a different theme. So far, the park has received one train and will be receiving another next week. Now through the end of February, the park will continue to receive a new trains until all five are on site. Roughly one train per week will arrive at the park.
Busch Gardens will also be offering a brand new element to their guests on Verbolten. Each Verbolten train will feature on-ride video cameras. After the ride is over, you will be able to purchase your on-ride video or photos.
Below you can view construction photos from over time since construction began.
[flickr-gallery mode="photoset" photoset="72157629044338495″]
Verbolten is expected to open late spring. Busch Gardens will reopen for the 2012 season on March 24th. Stay tuned for updates on Verbolten and Busch Gardens Williamsburg.
Have a question about Verbolten or Busch Gardens? Ask us! For more information about Busch Gardens Williamsburg, visit http://buschgardens.com/va.