The day I've been dreading since the official announcement that Jaws was going to close is pretty much here. Tomorrow evening, Jaws will take it's final journey around the lake. Captain Jake's Amity Boat Tours was the only scenic boat tour on the island, but it won't be anymore. It'll close.. for good.
Yeah, hurts. Doesn't it?
Erik and I visited Universal Saturday and Sunday. Saturday night was perfect. Studios was pretty empty and lines were fairly non-existent. Jaws was walk on. The coolest thing about it was we had an entire boat to our selves and every single effect on the ride was working. We got as many final night-rides in as we could before the cold was too much to bear.
We also rummaged every gift shop in the Studios looking for Jaws t-shirts. Gone. If you had hopes of finding them.. good luck! Ebay might be your only option now. However we were lucky enough to find a  single shirt in the Islands of Adventure discount shop near the exit of the park (pictured below).
We visited again today for the same purpose: To ride Jaws.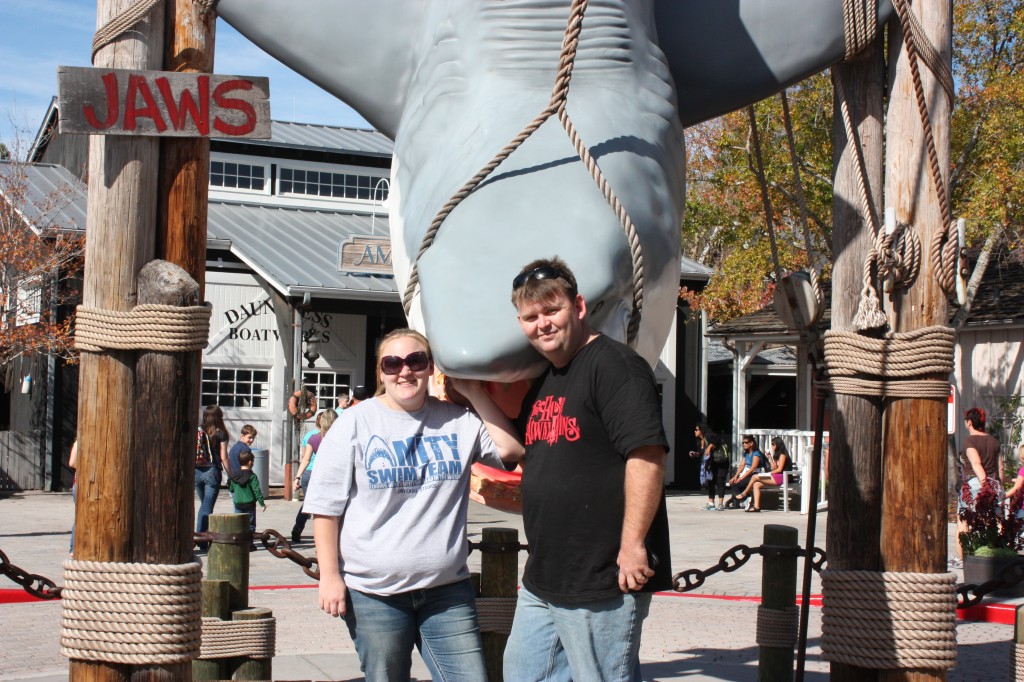 I think we spent close to an hour in Amity, just taking in the surroundings, riding over and over again, and just taking in the atmosphere in general. I'm pretty broken up about this whole "Jaws is closing" thing. Afterall, Jaws is my favorite ride at Universal Studios.
The ride was walk on again until around 2 or so this afternoon, so we took advantage of that and rode as many times as we could. I think we rode about six times. Each time was better than the last. Universal team members were also giving out the occasional red,white, and blue beads to guests. One of the skippers noticed my shirt and we talked for a few minutes before he gave us a heaping handful of beads.
It seemed like a true 4th of July celebration in Amity.
If you plan on going to the Studios tomorrow, stop by Amity and take a few rides on Jaws and just enjoy the whole atmosphere of Amity. We're still not sure what the future holds for what's coming next, but I'm sure it will be something huge and worth waiting for.
This fish episode is one worth remembering.
[flickr-gallery mode="photoset" photoset="72157628435676847″]