Since the last time we've been to Universal Orlando, a lot of progress has been made to the Hollywood Drive-In Mini Golf. The attraction is scheduled to open sometime this year, and by the looks of things, it's getting very close to happening.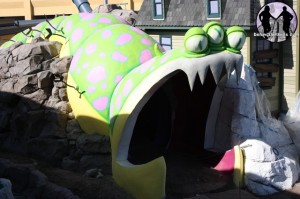 The giant three eyed worm that seems to be the focal point of the horror side of the course has come to life in brilliant colors. Hopefully this guy will have lights and sounds coming out of him as well.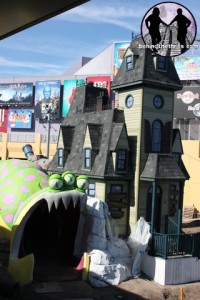 I hear many people try to place what the spooky looking house is from. Suggestions range from Psycho, to Beetlejuice, but all I have to say is Zoinks! That house looks like something right out of Scooby Doo!
On closer inspection, it would appear that the worm and house serve as entry ways into the various courses. The worm seems like something out of an old Sci-Fi movie, and the stairs lead towards that side, and the haunted house seems to lead towards the horror side.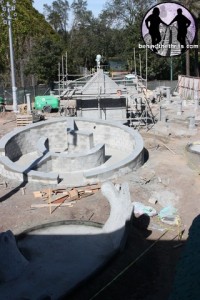 Other features are popping up all over, such as a pit, a covered bridge and of course ghosts.


We've got cows! Tons of fun little props litter both sides, from the covered up cow, to spaceships and of course our giant killer robot.
Rumors are flying when the golf course will open, but we are hearing that it could soft open as early as Valentines Day with only side being open at a time.
More mini golf goodness:

Meanwhile in the Studios, strange things are afoot.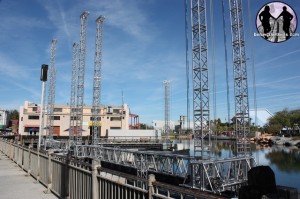 We've heard from countless sites and sources that this stage will be used in an all new lagoon show that will premiere this Spring. Fountains, not fireworks, will be the big showcase. We've heard maybe live rock performances, combined with movies on fountain screens.
Universal 360 used movies on giant balls and pyrotechnics. The use of fireworks of any kind has been scaled back significantly (we're told) because of the apartments directly behind the park.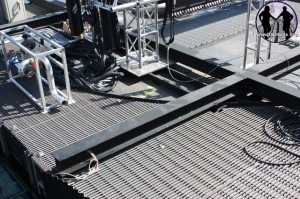 The work seems to be going on several barges, we counted three, which are numbered. Could we see something a stationary stage that divides and goes to different parts of the lagoon for better viewing? Sadly, this is the first we've heard or seen of it, so we're not too sure of what's in store.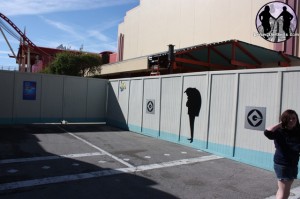 A lot of work has gone on for Despicable Me, including all around the queue area, nothing extremely visible, though we've heard a great many things.
More lagoon and construction goodness

For more information about Universal Orlando, including tickets, visit the official website.