January 2nd, 2012 will go down in history for theme park fans as a sad day. It is, of course, the day that The JAWS ride closed it's doors forever. Perhaps the reason for the closing was because Universal had "magical" plans for the area, or maybe it's because word of the little "fish episode" got out, which meant the end for Captain Jake's Amity Boat Tours and all of the businesses on the island. Whatever the reason, you can still live the ride, and perhaps pursue your dream of being a JAWS Skipper online.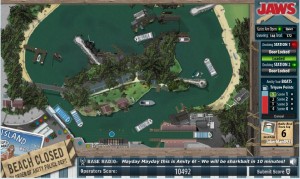 You can now "Ride the Shark" from the comfort of your own computer thanks to a new Sim game. The ride takes you through the motions of actually running the ride, and features music and sound effects from the ride itself.
Ride Sims is an all new website that has not only the JAWS ride, but also Tower of Terror, Space Mountain, Saw:The Ride and a few others.
While the ride isn't very lifelike in the regards that it gets you right into the action, it pretty much simulates what it's like to run the control board, or at least takes you through everything the skippers and operators had to keep an eye on.
You have to create a free account on the site in order to play, but…it is free. Once created you can play all the sims for free.
The game is a little tough to pick up at first, but once you do it, it becomes a matter of learning the routine. After a while it becomes repetitive, but still a fun way to relive your favorite "fish episode".