The days are getting longer, and we're getting ready to say so long to January. If you believe in the whole 2012 "end of times" thing, we're going to die in less than eleven months. Well, the good news is, at least we get to see the Hobbit and ride Verbolten before we die. The bad news? No Potter expansion. Sadface 🙁
My theme park news shakes it's fist at the Mayans who made that stupid calendar!
Disney
Those wacky republicans! I swear sometimes the things they do make me glad I have no political party affiliation. When they're not busy shooting down all the bills that democrats try to get passed, or beating up on members in their own party, they're busy trying to get people to realize that they're being brainwashed….by Muppets. Realize the irony in this. Fox News accused the Muppets of brainwashing children because the bad guy in their latest movie is an evil oil baron. And that's painting an ill picture how?
Kermit and Ms. Piggy address these ridiculous accusations, and the response is really quite funny
httpvh://www.youtube.com/watch?v=Y8YhED4IgQA
Parents can help Mickey get a very special date for Valentine's Day at the Magic Kingdom. Parents can order a very special package to help Mickey and Minnie do just that. You get a personalized set of Valentines ears, stickers, a BFF lanyard and a card the little ones can color to have Mickey give to Minnie. On top of that, they get an invitation for a special surprise meet and greet. It's all very cute and fun. More details
The new Art of Animation resort is going to of course have an extensive menu. The focus is going to be on "Better for you" choices such as gluten free, fat free, and sugar free. Disney Parks Blog has a sneak peek at the new menu, and what guests can expect. Full story
Disney Cruise lines have announced that the Wonder will move to Miami. The Cruise line currently serves Mexico and other West Coast Destinations, but will start serving the Bahamas and the signature Castaway Key. Full details
Disney is getting into the fansite business. They are letting a select group of Disney fans bring their fandom to a site designed at getting the word out about Disney. We all know that Disney loyalists are the parks best fans, but some say this is Disney's way of cutting down on the amount of fansites they deal with. Will it work? Not likely, because unlike the official Disney fansite, unofficial sites are notorious for getting the inside scoop before the park wants it known. Full story
Every poll and awards for the amusement industry tends to leave out the biggest of the big in their awards. Disney. Let's face it, in awards voted on by fans (including the Thrill Weekly Awards) it's usually the park that reaches out to it's fans the most. In the case of the Travel Weekly Awards, the awards are voted on solely by Industry professionals, and travel agents…ya know, people who work at the parks and don't necessarily go. In the Travel Weekly Awards, Disney took home top honors. Full Story
SeaWorld
A girl with no hands and her family is petitioning Central Orlando parks including SeaWorld for not allowing the girl on certain attractions. They are trying to get the parks to change their policies. These same policies that are set forth in safety regulations by the ride manufacturers to ensure that everyone has a pleasurable ride and doesn't die. Does anyone remember the gentleman over the summer, an Iraq War Veteran who was also disabled? He read the safety regulations and decided to go on the coaster anyway. Yeah, he died. Any rate, this girl and her family are trying to change said safety regulations.I do agree, they need to be followed a little more closely and not have exceptions made…at all, exceptional abilities or not. Full story
Looking for a sweetheart getaway for Valentine's Day? The Renaissance at SeaWorld Orlando is offering a "Love at First Bite" promotion. Couples get a decadent all inclusive romantic food package and more! Full story
SeaWorld is giving all Florida Teachers an "Active Study Pass" once again. It allows teachers to gain access to SeaWorld Orlando for free throughout the rest of the year. The pass is free to all active teachers with ID and paystub. For more information, visit the official website
Galveston's Pleasure Pier is getting a revival. The dormant Pier is set to get a $60 million dollar overhaul for 2012 and will feature 16 rides, including a new coaster! Full details
Do you want to win a Hersheypark season pass? Sure you do. Do you want your creation to be one that Hersheypark uses to open Skyrush, in commercials? Nerdgasm! So, enter the contest that will have you making your own coaster video. Details and rules
ASSEMBLE! You know you're going to go see the Avengers, and in 3D. You're going to be able to do it in style with some amazing specs.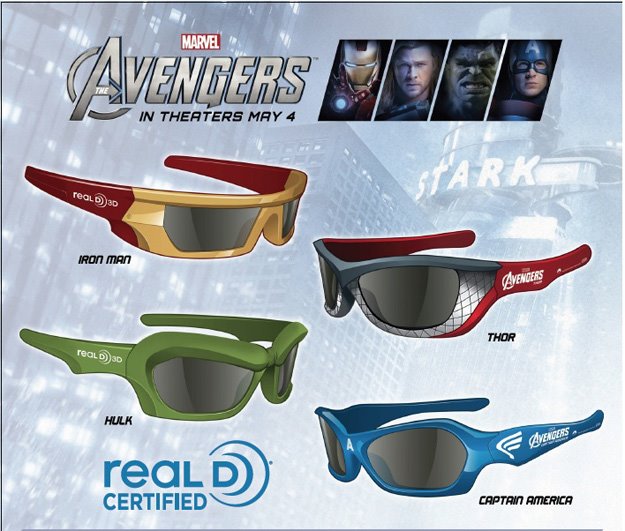 Yeah, I'm gonna be rockin the Captain glasses for sure. Or Thor..
You like Ferris Bueller? You're a child of the 80's aren't you? You love him. Well, we got all excited when we saw a teaser featuring our favorite slacker. Well, it was for a Honda commercial which will air in the Super Bowl. Bleh. But it's still good to see some fun still left in Bueller, perhaps if enough of you watch it, the studios might get some ideas?

Ride of the Day
You have epic rides, and then you have the cheap tourist trap knockoffs that are so lame they are epic. Case in point, your ride of the day that takes you on an amazing time warp into the past. You are almost eaten, killed and maimed by stuttering jittering animatronic dinosaurs and beetles with the Revenge of the Mummy logo printed on them. The awesome cheese is why Jurassic Jungle Boat Ride in Pigeon Forge TN is your Ride of the Day
httpvh://www.youtube.com/watch?v=y1yMheYh6V0&feature=related