It's extremely hard to find a great value at a theme park these days. You have the ever rising cost of admission, the inflated price of parking, if you're going on a busy day you'll need their "front of the line" passes, and don't forget the cost of food, drinks and souvenirs. It really seems that there are so many extra features popping up that come out of your pocket, that you need a loan just to have a great time. That's why it's so refreshing to see a value come along that gives you not only a great value for your money, but also a one of a kind experience.



Blue Man Group Orlando is a high energy dance euphoric dance party featuring the world famous Blue Man Group. It's about a 90 minute show and features music, comedy and special effects. Just around the corner and up the stairs from the box office is the Bluephoria Lounge. It is a special pre-show warm up area that takes you away from the crowds, and gives you a place to relax and gear up for the show.
The Bluephoria Lounge features not only a full bar, but also sofa's, chairs and flat screen T.V's. It's nestled away from the rest of the crowds and gets you in a full 45 minutes before the show starts. The flat screens play a documentary giving a little background information on the Blue Man Group with the show's founders, and original Blue Men.

Downstairs the chaos of the crowds are trying to find seats, getting drinks and snacks. Upstairs tucked away from everyone you have a bar at your disposal, and can also get drinks and purchase snacks. The cost of the experience is $20 dollars in addition to you Blue Man Group show ticket. However for $20 dollars you get your choice of either two alcoholic drinks, or two soft drinks. You get a five minute warning and entry to the theater, you also get a program for the show that costs $10 dollars, and you also get exclusive time with a Blue Man after the show.
If you do the math, the drink's alone costs around $6 each, and add that to the program that is $10 dollars plus tax. You're getting a pretty good discount.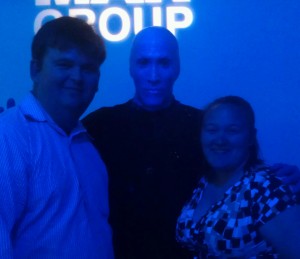 After the show the normal crowds press into the theater lobby and hope for a chance to wait in line to meet a Blue Man from the show. You can stand in line in the hopes that you get to catch small glimpse and get your picture with one. For guests visiting the Bluephoria Lounge, you immediately go back up to the lounge after the show and there waiting for you is a Blue Man of your very own.
Now being up and away from everyone you get a special treat, because this blue man actually will have a conversation with you! I'm very much aware that these guys are performers with their own personalities, but they get so immersed into the Blue Man Character that they usually just stare at you intently and look as if they're trying to communicate with you through ESP. So to see one talk, it kind of gave me a moment of "HOLY CRAP! HE'S TALKING!"
It's something of a surreal moment to see this guy answering your questions about the show and just being a real person. Of course you get a chance to have him autograph your program and take a photo. That alone, without the crush of the crowd is worth the extra money, and makes it one of the best theme park values you can get.
For more information about the Blue Man Group Bluephoria Lounge, visit the official Blue Man Orlando website!