Laissez les bons temps rouler! Let the good times roll! Happy Mardi Gras everybody! It is Fat Tuesday, and it's the last time to live it up large before you make the sacrifice of Lent. Of course, that really only applies if you're catholic and practice it. I'm not one of those people…but I'm also one that is always looking for a good excuse to have a great time and a great party. Unfortunately New Orleans is a good bit away, and the crowds are a little unbearable. Universal Orlando will be having it's annual festival celebrating the day for the next few months, but that does us no good on Tuesday, does it? So here are a few ideas to bring the party home!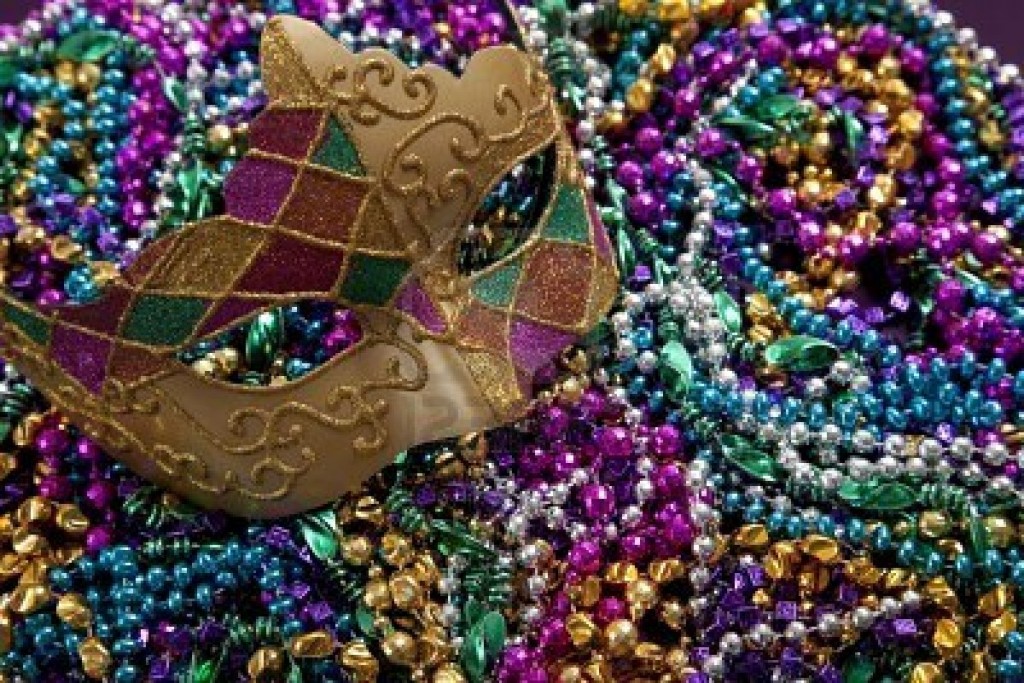 Some of the main ingredients in a good Mardi Gras party is of course, the drinks, the food, and the music. So here's a run down of some of our favorites that you can make at home.
Drinks
The signature drink of the Big Easy is The Hurricane. You can't go anywhere without one, and if you try to go with one, you usually end up on your face…or in some cases with your pants around your ankles in front of a bar full of people…but we won't go into that!
Traditional Hurricane Recipe:
(Courtesy of Foodnetwork)
12 ounces light rum
12 ounces dark rum
10 ounces grenadine, or passion fruit syrup
10 ounces fresh orange juice
10 ounces sour mix, or fresh lime juice
3 tablespoons superfine sugar, or more to taste
1 large orange, cut into 1/4-inch thick slices
Mix all the ingredients in a tall pitcher or large pot and stir to dissolve the sugar. Pour into a punch bowl and add the ice cubes and orange segments. Serve in tall glasses over ice with straws.
Of course not everyone can enjoy the rum soaked goodness of a Hurricane…so here's the non-alcoholic version:
3 oz orange juice
3 oz pineapple juice
1 oz sweet-and-sour mix
1/2 oz grenadine
In Hurricane glass or tall glass, pour juices over ice.
Top with grenadine syrup.
Garnish with fresh pineapple and orange slices.
Food
So many ways to go here, so let's go with a traditional dish of Jambalaya. Jambalaya can have pretty much any kind of meat, from chicken, sausage, fish, shrimp…you name it, it can go serve as your meat. Traditionally, it's made with shrimp and sausage
2 teaspoons olive oil
2 boneless skinless chicken breasts, cut into bite-size pieces
8 ounces kielbasa, diced
1 onion, diced
1 green bell pepper, diced
1/2 cup diced celery
2 tablespoons chopped garlic
1/4 teaspoon cayenne pepper
1/2 teaspoon onion powder
salt and ground black pepper to taste
2 cups uncooked white rice
4 cups chicken stock
3 bay leaves
2 teaspoons Worcestershire sauce
1 teaspoon hot pepper sauce
Heat oil in a large pot over medium high heat. Saute chicken and kielbasa until lightly browned, about 5 minutes. Stir in onion, bell pepper, celery and garlic. Season with cayenne, onion powder, salt and pepper. Cook 5 minutes, or until onion is tender and translucent. Add rice, then stir in chicken stock and bay leaves. Bring to a boil, then reduce heat, cover, and simmer 20 minutes, or until rice is tender. Stir in the Worcestershire sauce and hot pepper sauce
King Cake
This is a must have for all Mardi Gras parties. At parties people stuff coins, beads and a baby (plastic) into the cake. The tradition says that whoever gets the baby makes the next King Cake and hosts next year's Mardi Gras…it's pointless at our house since I always do the cooking and everything anyway.  I use a simple recipe that uses canned cinnamon rolls.
2 cans Pillsbury Cinnamon rolls
cream cheese
1 tbsp vanilla
1 tbsp confectioners sugar
3 separated 1/2 cups of sugar
red, blue, green and yellow food coloring
On a large cookie sheet spread out the cinnamon rolls. This bit is messy, but try to form as much of a circle as you can. Mix together cream cheese, vanilla, and confectioners sugar until blended. Spread cream cheese mixture on cinnamon rolls and fold the rolls together closing in the cream cheese filling. Bake as directed. use the provided frosting to ice the king cake. Mix the food coloring a few drops at a time into the sugar. Put yellow and green into separate containers and mix with a fork until blended. Mix together equal parts red and blue food coloring to make purple. Sprinkle colored sugar on to King Cake.
Music
New Orleans is famous for the rich music that comes from the area. Jazz is a huge part of the area, but for Mardi Gras, the traditional music is Zydeco. It's a mixture of blues and bluegrass and it comes out with it's very own flavor. You can see a lot of the Zydeco and Blues bands that call New Orleans home in the French Quarter at Universal Orlando's Mardi Gras. But here is a short list of some favorites you can find on Itunes or Iheartradio.
Rockin Dopsie Jr. & the Zydeco Twisters-Feet Don't Fail Me Now
httpvh://www.youtube.com/watch?v=spsx_Jugo44
Buckwheat Zydeco-Ma Tit Fille
httpvh://www.youtube.com/watch?v=8Y4ZsWQyDEI
httpvh://www.youtube.com/watch?v=a0hKzamp_R4
And of course
Fats Domino-Mardi Gras in New Orleans
httpvh://www.youtube.com/watch?v=kSl8mIjwXYg
This is just a taste of some of the different flavors to help you celebrate Mardi Gras! We hope you have a great Fat Tuesday!