It's that time of year again! Laissez les bons temps rouler! Time for Mardi Gras! Every year Universal Orlando brings Mardi Gras outside of New Orleans in their celebration of beads, food and good times. Every year the parade takes on a new theme, which adds several new floats, costumes and characters. This year is no exception, with the theme being "Exotic locations". We are taken to the four corners of the globe, and get an up close early look at this year's new floats.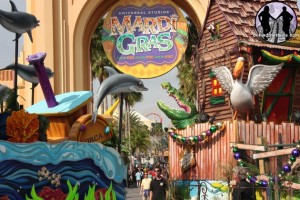 This year's four floats takes us to exotic locations. Under the sea to the majestic reefs, the cold reaches of the arctic and the antarctic, the lush tropical rainforest, and the swamps of the bayou.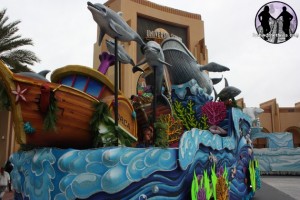 First stop is under the sea. This gorgeous float features dolphins, sharks, different sea life, and a huge humpback whale right on top. Fans of the Jaws ride might even catch a little tribute to the now closed classic attraction.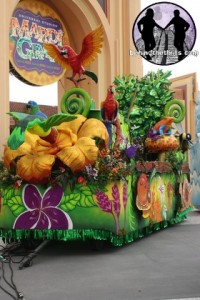 Next up is the tropical rainforest. We see the spirit of the trees, birds, frogs, and even rain!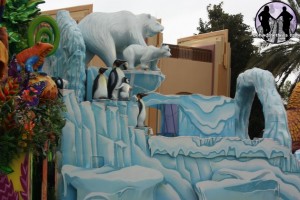 Onward we go to the cold reaches of the frozen arctic and antarctic. We see penguins, polar bears and a huge no tusk walrus.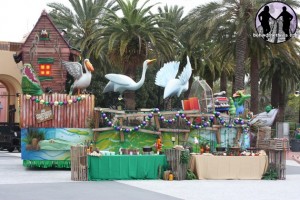 Finally we take a comical trip to the bayou with typical swamp shack, egrets, gators and an airboat driving gator.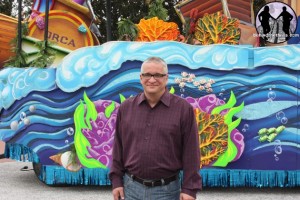 We spoke with Jim Timon, Senior VP of Entertainment about Mardi Gras this year.
"Outside of New Orleans, we are Mardi Gras" Jim told us "You won't find a more authentic celebration anywhere, from the parade to the food and even the entertainment."
The headline of every Mardi Gras performance is the concert. This year the park has one of the biggest line ups in years with classics like the B-52's to stars that are making it huge like Kelly Clarkson, and even Grammy Award nominees.
"Booking the concerts are mix of art and science" Jim added "We try to keep a little bit for everyone"
This year seems to have it. Not only are the concerts and parades a huge part of the event, but also the food.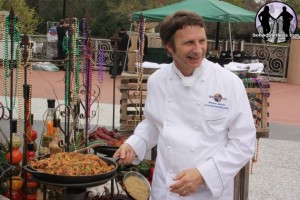 "From the traditional crawfish, to gumbo, and king cake, we have a taste of New Orleans for everyone!"
You can find traditional New Orleans dishes in the French Quarter, as well as some signature dishes in the restaurants around Universal Studios.
Check out even more Mardi Gras goodness:

For more information about Universal Orlando's Mardi Gras, visit the official website! Mardi Gras kicks off February 11th and goes all the way to April!