With the NBA All-star weekend happening in Orlando, the entire city is buzzing with NBA superstars, and many hoping to catch a glimpse of some of their favorite NBA Stars. If you've happened by NBA City at Universal Orlando's Citywalk, then perhaps you've been one of the millions to compare your hand size with greats like Charles Barkley. Tomorrow night you may have your chance to actually see if you measure up in person.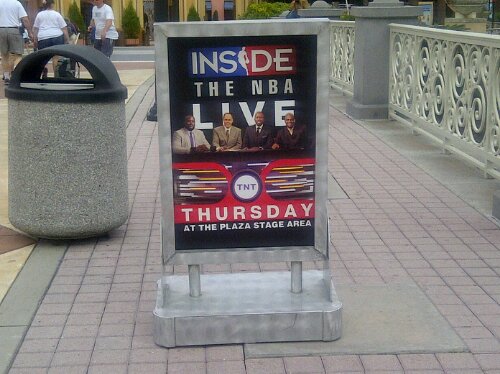 Universal Orlando will have your chance as the hit TNT show "Inside the NBA" will be recording live from Universal CityWalk. The show will be airing live from the plaza area stage beginning at 7p.m. and will go throughout the night. The show is hosted by Ernie Johnson and usually features analysis by Charles Barkley, Shaquille O' Neal and Kenny Smith.
The show begins at the big stage in Citywalk in between Pastamore and the Universal Store at 7p.m. If you're hoping to get a good spot, the best bet would be to arrive around 5p.m. Clubs and restaurants in Citywalk usually open around 4p.m. and don't close until around 2a.m. so if you need some diversion from all the basketball madness going on, you can distract yourself with some great happy hour specials going on.
For more information about Inside the NBA, visit the official website.
For more theme park madness follow us on Twitter! We're tier abull!