You may call me….keeper….for I am the keeper of theme park tales….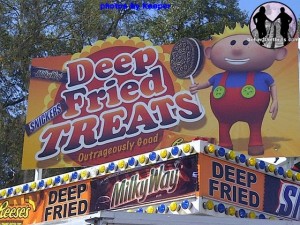 Last week I left the sparkling clean controlled theme parks behind me as I took a side trip to Tampa to visit the Central Florida Fair. My primary goal was focused on something else (story to come) but fearless leader Erik suggested a quest for my travels. The task…explore the calorie-laden world of fair food in general and to find and discover the secret of fried Kool Aid in specific. Fried Kool Aid…I've never heard of this…how do you make it…WHY do you make it…does it come with a straw ….or is it chewable. A strange new world with new people and adventures to be had…to explore…to discover… and beyond that…A QUEST. The Adventure begins…
Once I drifted from the safety of the display buildings and onto the midway my senses were bombarded with blinking lights, neon, people, music, excitement and a different exciting smell at every turn. I quickly found out my original plan of having a corn dog and continuing on my adventure paled at the excess I saw all around. My arteries hardened just looking at the signs….fried Twinkies, fried Oreos, fried vegetables…..I continued as the landscape got more and more odd…like journeying in a place I shouldn't be…..fried cookie dough, fried mashed potatoes, fried bubble gum…fried butter…..butter?!? Nothing made sense…I sat down to clear my head. I didn't realize how close I was or the allure of this strange world. My resistance was weakened from my travels…my quest…the lateness of the hour.


I broke down…I ordered…the two orbs were lovingly dropped in a vat of oil when I ordered them. I watched them sparkle with bubbles as they turned a golden brown they were put on skewers and lightly dusted with powdered sugar. In little time I held in my hand fried M & M's. I bit into the ball and felt a warm gush of molten goodness softly caress my taste buds and trickle down my throat. I ate them both and staggering away to try to resume my quest for the elusive fried Kool Aid I stopped in my tracks. I rubbed my eyes trying to understand the combination, I walked away but 5 minutes later I found myself standing back in front of the booth reaching for my wallet. Corn dog be damned!!! I wanted…no I NEEDED a Krispy Kreme Doughnut Burger.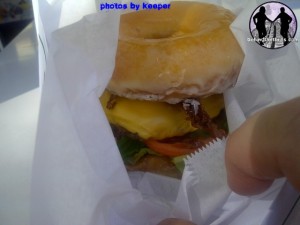 It was served in a Krispy Kreme hat….a greasy fried burger with the works nestled between two sugary laden Krispy Kreme doughnut halves functioning as a bun. Gooseflesh covers my body just remembering this unholy mixture of sugar and grease. I don't remember much of what happened during those 30 minutes but I fear it wasn't pleasant. I came to about an hour later ready to leave before another demon possessed me when I saw it. The happy smiling face of KOOL AID MAN on the sign that said Fried Kool Aid!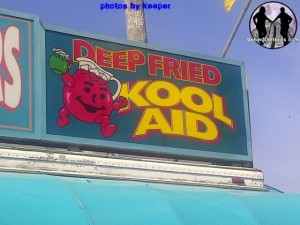 Four golden balls of cherry flavored fun finally in my hands. It appeared to be funnel cake batter mixed with Kool Aid powder turning them red. Instead of powdered sugar they were sprinkled with Kool Aid flavored granulated sugar to give them just the extra OH WOW you'd expect from their namesake. By themselves they were enjoyable…on top of the rest they almost shut down your pal keeper. BUT I PREVAILED …almost beaten by the adventure I came out victorious and in a sugar-laden high flew back to the safety of my precious Islands with only a brief stop to pick up antacid on the way. This is part of the reason Americans are so fat, but with all the mouth watering deep fried goodness, do you really blame us?
I of all people should not take quests lightly and always remember…
See all the deep fried goodness:

Every Day's An Adventure
Keeper