Legoland Florida made a huge splash in Central Florida last October when it opened it's doors to the public. They immediately announced that not only would they be expanding but they would be opening the first ever Legoland Waterpark in Florida. While the waterpark will be expanding on the existing Cypress Gardens waterpark, officials announced that the park will be distinctly Lego.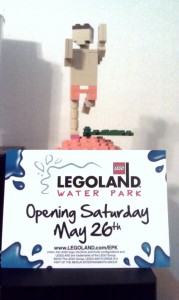 We recently took a tour of the new park (click here to check it out) and while we did see a good amount of work being done, and found out exactly what we can expect to see at the park, we didn't get a date. Until yesterday when we received a nice little package in the mail with our new friend in water trunks sporting pink sandals.
The Legoland Waterpark will open Saturday May 26th. The park will not be included in daily admission. So if you purchase a one day Legoland ticket, you will not be able to enter the waterpark unless you purchase the add on ticket for just $12 dollars more. The good news to this is that there will also not be outside admission sold to the waterpark. Instead, only guests of Legoland Florida will be allowed to access the new waterpark. This cuts down on crowds quite a bit, and the crowd level of the park will directly effect the waterpark.
However, if you have a Legoland Florida annual pass, waterpark admission is included. The Premium Pass includes unlimited admission to both LEGOLAND Florida and LEGOLAND Water Park, free parking and discounts within the park and is $179 for adults and $149 for children 3-12 and seniors 60 and older.
So are you looking forward to this Memorial Day weekend and the opening of the all new Legoland Florida waterpark? Let us know in the comments below!
For more information about the Legoland waterpark, or to purchase your annual pass visit the official Legoland website!