Universal Orlando kicked off their annual Mardi Gras celebration this past Saturday. While it's one thing to see the floats on their own, it's certainly another to see Mardi Gras working with all the cast and characters out and about. The costumes, smell of food and beads flying about certainly makes for an amazing atmosphere.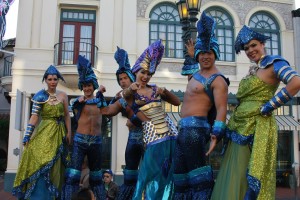 Each year Universal refits four of their floats to fit the theme of the year's parade. This year, the theme is "Exotic locations" and the outfits from each of the floats fit that perfectly.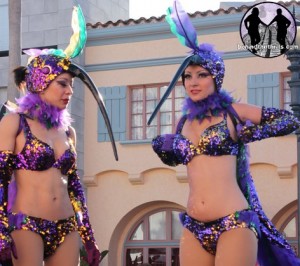 These "hummingbirds" are part of the all new rainforest float and can be seen before that float comes into view.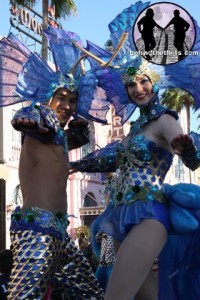 Others include these characters from the Polar Float, not exactly sure what they are, or if they're definitely from the polar float, but they are impressive none the less.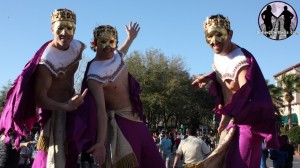 More traditional costumes include the Mardi Gras court with several Kings and Queens. Also you get characters in traditional formal attire, and of course the jesters.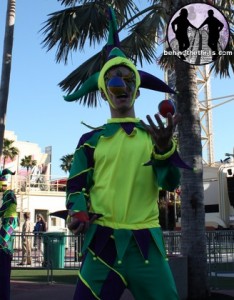 Check out even more Costumed greatness:

Meanwhile the parade itself has undergone a few major changes. The first being the route it takes, and the time. Traditionally the parade has started at 8p.m. with the concert happening almost immediately after at 8:30p.m. Now the parade starts at 7:30 but the concert still starts at 8:30. This seems to be a crowd control method and it works exquisitely. The route obviously had to change since the entire Amity section of the park is now closed.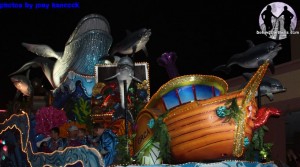 The parade now starts at the Pantages Theater (Home of the Horror Make up show) and winds down by the lagoon, up the New York section (by Mummy) in front of Twister and Shrek and down Hollywood Blvd (by Terminator) where it ends at Horror Make up. It can also go the reverse direction, but this parade route is much shorter than the previous route. The good news is that there are the same amount of beads, and half of the area is shut off with construction walls.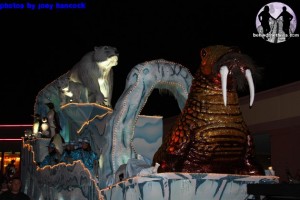 Now after the parade ends, guests are directed in two directions, either towards the park exit or towards the concert. Those looking for the exit are ushered down a street, and out the park. Those wishing to stay for the concert are walked down the area towards New York and up past the Mummy. This is again is a form of crowd control, and it worked perfectly. By the time we arrived at the stage area, everyone that wanted to leave the park had done so. Also, the concert didn't start until 8:30, but the parade ended at around 8p.m. Kudos to Universal for re-routing the crowds and staggering the time to break things up.
More shots of the parade:

For more information about Universal Orlando's Mardi Gras, visit the official website!

For even more theme park action, be sure to follow us on Twitter!