Since 1971 Snow White has been scaring children with her adventures in the Magic Kingdom. The classic dark ride, however, will be closing it's scary doors forever on May 31st. If you're a fan, don't worry, some of the figures will be relocated to an all new attraction.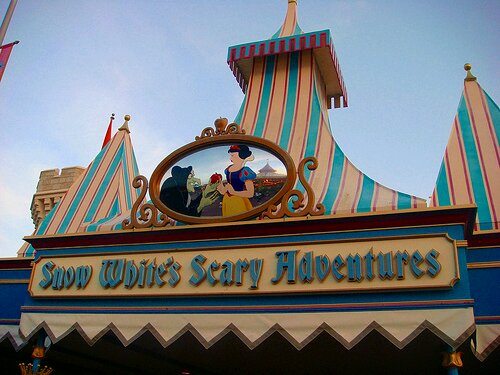 The new attraction will feature a mine train coaster that will be unlike anything out now. The attraction originally opened with the park  in 1971 and featured static figures backlit with blacklight.
Though the attraction is a favorite of guests, it is one of the scarier rides in a park that prides themselves on being family friendly.
While this iteration of the ride is ending, this isn't the first time the attraction has undergone massive changes. When the ride originally opened, it was darker and even scarier than it is now. What's more, the attraction didn't even feature Snow White. Instead guests played the part of Snow White and were reliving her adventures. Everything about the ride had a darker tone, from the loading station to the end of the ride.
The loading station was set in the dark scary forest. Big monstrous trees loomed over guests as they boarded the four person carts. The carts themselves were themed to the beds of the Seven Dwarves, and had their names on each one. In the ride guests were taken by the evil queen, and were chased by her, all the time getting closer and closer. Then in the final scene of the ride, the evil queen drops a rock on the cars, essentially killing the guests. Not the fairy tale ending of the movie, and more along the lines of Mr. Toads Wild Ride where guests are sent to hell.
I remember several times going through the ride with shut eyes, as did most smaller children. It was a frightening experience, and not along the lines of the pixie dust laden fun that the park is known for.
In 1994 the ride was given an overhaul, and the scary toned down. Snow White was added to the ride, and the cars were made to hold six people. The queen was scaled back, and at the end if the ride, we all live happily ever after.
According to the official Disney Blog, the ride will close May 31st and guests will ne treated to an all new adventure in the seven Dwarves mine. Jewels and music will take the place of scary queens, and no rocks will be dropping on heads. It's all part if the New Fantasyland expansion that is set to start opening this year and will finally complete the huge expansion next year. If you ever feel nostalgic about the Scary Adventures, you will still ne able to see the ride in California, Paris and Tokyo.