The Super Bowl is the biggest television day of the year. Tens of millions of people will flock around the television to see two teams battle for supremacy. You thought those two teams were the New England Patriots and the New York Giants? Well, if you did, it's time you join the battle and prepare to fight!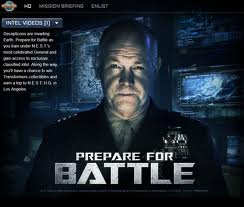 Universal Studios Hollywood has released their Super Bowl ad for the upcoming attraction-Transformers the Ride.
In the ad you are directed to a website for the ride that not only gives tons of great videos about the ride, but also gives you the chance to be one of the first people to experience the ride.
Head to Prepare for Battle  and enlist in N.E.S.T. (Network Elements:Supporters and Transformers) to be greeted by the general. You have to gain points, and to gain points you have to recruit more enlistees and answer trivia questions. Simple as that.
httpvh://www.youtube.com/watch?feature=player_embedded&v=rsIICYIcF1I
The website itself is a fun take from the movie where the battle against Megatron rages on. It's up to humans to band together and held destroy the Decepticon Menace.
And if you're not into the whole Super Bowl phenomenon, or just want to spoil it early check out the full Transformers:The Ride Super Bowl ad:
httpvh://www.youtube.com/watch?feature=player_embedded&v=Lni0WCFnZDw
For more information, or to enter to win, visit the official Transformers-Prepare for Battle website.