What started out as a green grassy hill is now nearing it's transformation into a stylish new Mini Golf course that will feature over the top characters and crazy holes to try your skill at. Universal has announced a vague opening date of the end of February, and crews seem to be working very long days to make that happen. The good news is, there's still about three weeks left in February to make that deadline, though the way work is progressing, it doesn't look like they'll have any problem.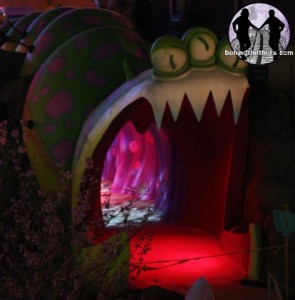 This is one cool looking golf course during the day, but at night this thing is going to be unreal. The worm has a spinning vortex right in the pit of his gut, almost as if you're about to be digested.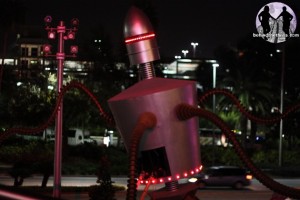 The robot is starting to take on a menacing glow as well with pulsing red eyes, and neon colored lasers coming from his claws.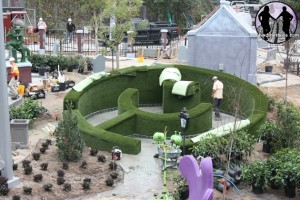 Other things getting some really cool details is the huge hedgemaze. While it's very small, it does have a certain "Shining" look to it.
Elsewhere in the resort…do you see something missing?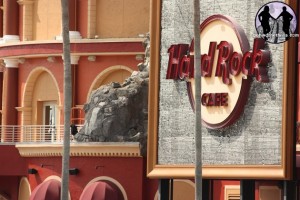 The paint scheme is getting a complete redo on Hard Rock Cafe, and a key icon that's been coming from the roof is now gone. The Pink Cadillac is gone, no word on if it will be back, but it appears that the building is going in a whole new direction and away from the classic arena of rock.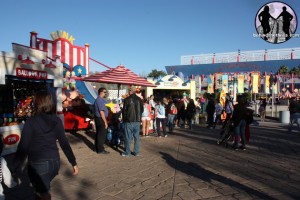 Over at Universal Studios, games that were once located in the now closed Amity section of the park are now located just before the bridge between Amity and the Simpsons. It's really an odd place, as they would be much better suited for right in front of the Simpsons, but at least they are back.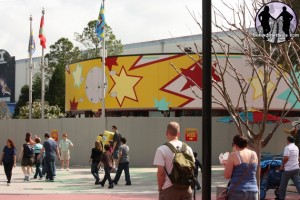 Work on the Kids Zone store has begun, and one can't help but wonder if this is going to be the home to the all new Nickelodeon store that the park has announced as coming soon. It certainly fits the bill, and the store is completely closed.
Finally we were riding on Mardi Gras floats for the first night of Mardi Gras (full report coming soon) and as we went by the site for the all new Minions Mayhem attraction, we were high enough to see open doors. While we did not have a camera, we did get a peek inside. Completely and totally barren. Any signs of Jimmy Neutron are gone. It's not starting to even look like Gru's hideout just yet.
Stay tuned for more updates!
For more information about Universal Orlando, including tickets, visit the official website!
If you want even more updates, be sure to follow us Twitter!
Subscribe to us on YouTube for amazing theme park videos!