I'm a huge fan of Penguins. I love everything about them, except the smell. They're so cute and they look so cuddly! Erik booked the Penguin Tour for me over the weekend to celebrate our anniversary. I have been on several tours before at Busch Gardens Tampa, but never any at Seaworld. The tours are a lot of fun and you get be up close and personal with the animals. That's not something everyone can say they've done at Seaworld unless they've been on the tour before.
With Penguin Encounter being closed, the park still offers the tour. The habitat the penguins are currently in while Anarctia is being constructed is located backstage behind Shamu's Happy Harbor. The area holds roughly two hundred to two hundred and fifty penguins at a time. The tour is approximatley thirty minutes long and offers tons of information and an up close experience with some of the penguins.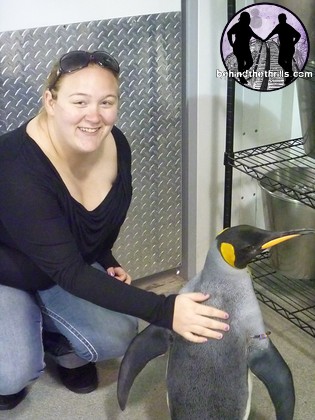 The up close part of the tour was my favorite. During this part of the tour, you and the rest of your group get to be up close to the penguins. During this part of the tour, you are able to not only get your photo with the penguins, but you can touch them. During my tour, I got to meet a King Penguin and a Rockhopper Penguin. The King Penguin was a little bit older than the Rockhopper and is much larger in size. The Rockhopper Penguin was very small in size. Actually, he was about the size of an "ankle biter" dog.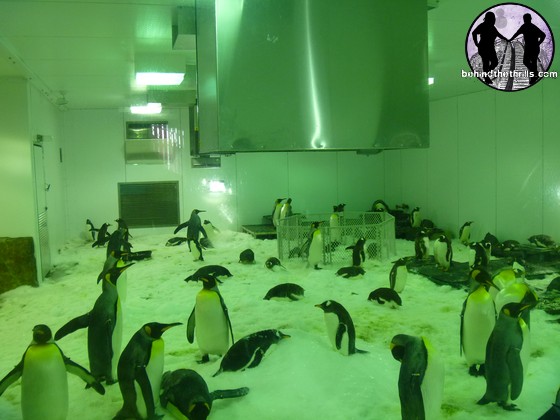 The other part of the tour allows you to watch the penguins interact with each other and more. This part of the tour is very educational as the tour host talks about how Seaworld cares for their Penguins and talks about Penguins in general. This part of the tour is very informative, but still fun. We watched penguins march in a line as they followed a trainer and we watched a few penguins chase each other around the habitat (maybe they were playing penguin tag?).
Facts:
The habitat has two ice makers. The larger ice shaver can produce around four thousand pounds of ice per day. The smaller one can produce around half of that number.
Young penguins are not "waterproof". They eventually molt, meaning their baby feathers get pushed out by adult feathers. When they are finished molting, they are able to finally swim.
Seaworld shovels out all the dirty snow out every day and it is replaced with fresh snow.
Seaworld sometimes adds vitamins to the fish they feed the penguins inside the gills. They are shipped to the park frozen and when they are defrosted, they loose some of their nutritional value.
Each penguin has a colored tag on it's arm to help identify the sex of the penguin.
Penguins can trap air under their feathers to help keep themselves warm. When they swim, that's where all those bubbles are coming from.
Penguins have feathers about a third of the way or more down their beak and feet to help keep them warm.
Now for those who remember Penguin Encounter, you might remember the smaller birds with colorful beaks. Puffins are a warmer weather bird, and according to the tour guide have been relocated to SeaWorld San Diego. Unfortunately they will not be back. The reason is that the new habitat when Antarctica opens will be so life-like that it will be far too cold for the puffins.
The tour costs around $35-$40 per person. Honestly, if you are a penguin or animal lover in general, this tour is a great value. I highly recommend this tour to my fellow penguin lovers! If you happen to take this tour.. Remember to bring your jacket! The penguin habitat is kept at a chilly 30 degrees!
[flickr-gallery mode="photoset" photoset="72157629289124405″]
Have a question? Ask us! For more information, visit http://seaworldparks.com/seaworld-orlando.
For more theme park fun and goodness be sure to follow us on Twitter!