Aquatica Texas, the new water park at SeaWorld San Antonio is moving along faster than you can say "Walhalla Wave". They've already announced an opening date, and revealed the official map, but things are moving along faster everyday. The waterpark will feature signature slides, interactive kid play areas, and stingray falls!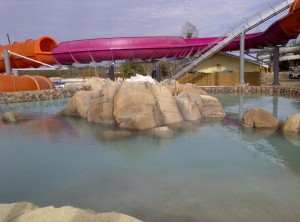 One of the final pieces of "Stingray Falls" is moving into place. Stingray Falls is a family style raft ride that takes you under the Stingray reef. The piece moving into place? Stingray Reef! The park showed off their complete reef today via the official Facebook Page.
With less than 90 days to go until the Grand Opening, the staff is moving at full steam to get things up and grand opening ready! The tedious work of laying down pools, and building beaches is complete. Now it's all about the slides. New components are moving in every day, and soon the final touches will be made.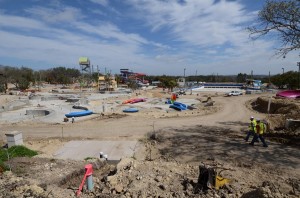 The next phase, after the park is complete, is the hiring process. Those seeking positions as Lifeguards, retail clerks, and customer service need to be on the ready, as we've heard hiring will begin very soon. Keep Behind the Thrills bookmarked, and we'll let you know when solid dates are released.
Also via the official Facebook page, the park's operational calendar has been released. Hours will vary, but the park will be open as early as 9 a.m. and stay open as late as 10 a.m. Plus, the park will be open well into October.
Stay tuned for all the latest on Aquatica Texas.
For more information, including tickets, visit the official Aquatica Texas website!