They took the world by surprise and showed the world better uses for indoor plumbing. They invaded the theme park world by splattering paint all over Universal Orlando. We've seen their balls drop and they've made us move our bootys. Now The Blue Man Group performs Rock Concert Movement number 407, appearing on a popular nationwide reality show. Ready. Go.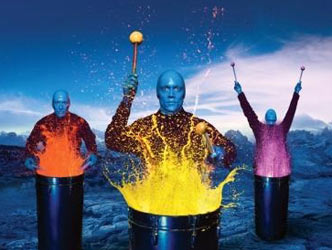 This Sunday night, the bold and blue will appear on the hit NBC show, Celebrity Apprentice. The show puts 18 celebrities against one another in a battle to raise money and awareness for the charity of their choice.
This Sunday the group will appear as a winner is presented with a $250,000 check for their represented charity.
The Blue Man Group has made Universal Orlando the home of a state of the art show since 2007. This past February, the show underwent a dramatic update in which several key elements were changed and even new segments were added.
Celebrity Apprentice airs Sunday night at 8pm EST on NBC. Check your local listings for more information.
For more information about Blue Man Group visit the official website!
For more information on Blue Man Group Orlando visit the official Universal website