During our last look at Verbolten, the queue line had little to no themeing installed. Since our last update, the queue line has come a long way and is getting ready to tell the story of a brother and sister (Gerta and Gunther) who operate a German tourist center together.
In the video below, Brian Marrow the Creative Director for Seaworld Parks and Entertainment, talks about many elements of Verbolten's queue. The queue will take guests through the tourist center, Gunter's office, and into the car garage. Many of the designs in the queue have been inspired by nature and the forest.The park uses the queue to create a rich story for the guests and to help tie the theme into the ride.
Check out Verbolten's queue and get some insight from Brian:
httpvh://www.youtube.com/watch?v=rsFm3SYc71k
Be sure to keep your eyes open through out the entire line (before and after the ride) because there are many small details woven into the queue.
We also reported on Sunday that Verbolten appeared on the Android and iPhone application's park maps. Busch Gardens has updated their park map to their spring 2012 map, featuring "Verbolten Coming Soon". Here's a low-resolution and labeled version of the map. For a high-resolution unlabeled version, visit the Busch Gardens Williamsburg Park Guide.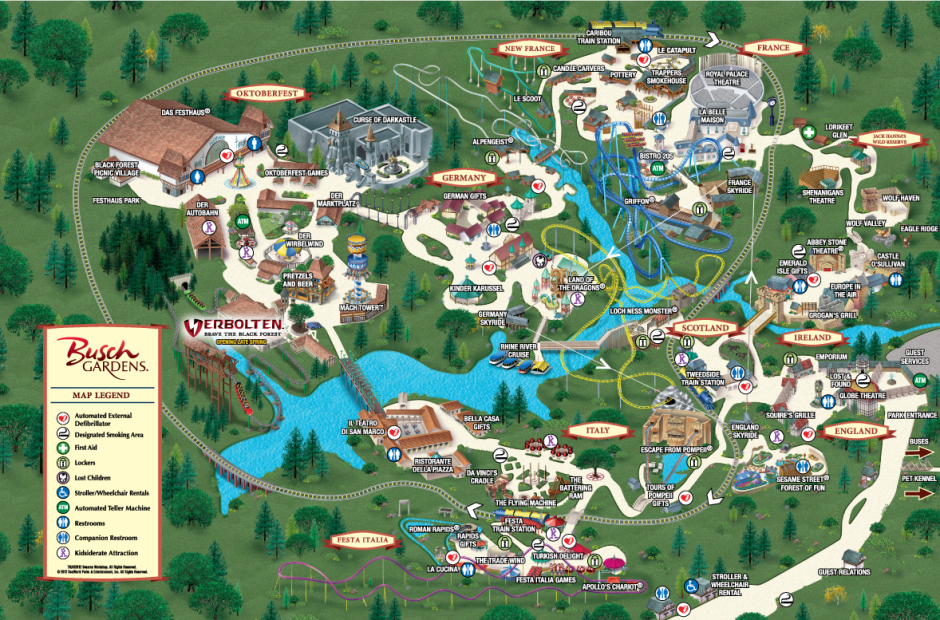 Have a question? Ask us! For more information about Verbolten, visit http://buschgardens.com/va.