Last month Dumbo the Flying Elephant went down and was moved from it's original location at the Magic Kingdom. The new home is of course the still under construction Storybook Circus, part of the huge new Fantasyland make over that the park is getting. The new area opened with only one of the two Dumbo rides that it will have, and also with the "Barnstormer" which now has a circus theme to it.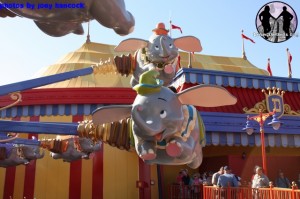 Once complete the new Dumbo will feature two of the signature rides, and a "queueless" interactive waiting area. For now there is still a queue and only one Dumbo attraction open.
Some fun new details have been added to the attraction. For example, the mouse that used to adorn the top has been replaced with storks carrying bundles. There is also a map of where the storks are headed.
Check out more Dumbo pics:
The Barnstomer, featuring the great Goofini has also opened. The old coaster has been made new again with new paint, and mostly just new features in the queue.

The old barn is gone, and it appears that Goofy has been trying some new high flying techniques…most of which haven't ended very well.


The coaster is a tame family style coaster and is a lot of fun for the younger crowd.
More Goofy pics:

Fantasyland construction is picking up even more speed with paint and details being added every day.


While some claim that the Snow White coaster has "gone vertical", the only thing you can see is the show building. Unfortunately we aren't seeing any track just yet.
More Fantasyland:

Big Thunder Mountain continues to get track work done, and we've heard rumors of a lot of old effects being replaced. Some will be the original effects, like the Opossums, others will be done to digitally enhance the ride like a rock falling projection effect.



Finally we take a look at some construction happening in Epcot: