The Wizarding World of Harry Potter was a such a great success that it is not only getting an expansion in Universal Orlando, but Hogwarts will also be built in Hollywood as well. The one thing missing in your tour through Hogwarts in the Wizarding World, is actually touring Hogwarts. Not to let tourists in America have all the fun, Warner Borthers has opened the Leavesden Studios to tours for the "Making of Harry Potter".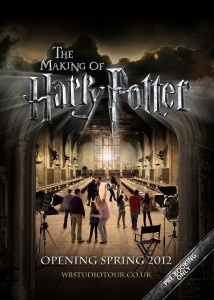 The Warner Brothers Studio Tour-The Making of Harry Potter, will let guests walk on the actual sets where the movies were filmed. Guests will be able to feel the magic as they walk through the actual Great Hall which has been painstakingly re-built.
httpvh://youtu.be/-EESmkZEOaY
Each piece was numbered so that work crews could reconstruct the entire set like one giant jigsaw puzzle. The other features will include Diagon Alley, props from the movie, and hands on demonstrations to show how the movie was made. The finale of the tour, however, will be the Hogwarts castle replica.
httpvh://www.youtube.com/watch?feature=player_profilepage&v=Etk3pl6uyII
The entire castle fits into one soundstage, and is nowhere near as big as it appears on film. Yet the castle took roughly 74 years (in terms of man hours) to build. It was used for aerial shots, and was digitally mapped for CGI shots. It was the basis for the Hogwarts Castle that now stands in the Wizarding World of Harry Potter in Orlando. Every four minutes the lighting will shift from day to night in order to show the full beauty of the castle. The tour is scheduled to open April 23rd.
For more information, or to buy tickets, visit the official Warner Brothers Studio Tour website!