Universal announced last year they would be bringing a mini golf course to Citywalk to give guests more entertainment options. Hollywood Drive In had several soft openings this week and offered special discounts for playing before the grand opening. Hollywood Drive In is now officially open, so get your putters ready!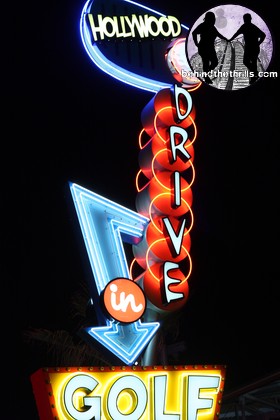 Hollywood Drive In is set to a 50's movie drive in, and they just so happen to have two different movies playing. You can choose to see just one, or you can go for the double feature. The mini golf course is has a total of 36 holes to play, but it is split up over the course of two different courses: "Invaders from Planet Putt" and "Haunting of the Ghostly Greens".
Planet Putt is themed to Sci-Fi movies and it has aliens! Don't forget the cows or that giant robot you can see as you drive down Universal Boulevard. You'll find aliens everywhere. Their spaceships have landed and they are about to abduct the cows (poor cows). The final hole is a giant worm hole that has a unique finish.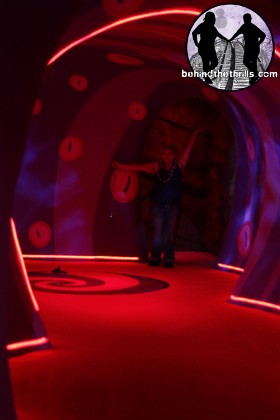 This hole is quite tough to get a hole in one on, but I somehow managed to do it!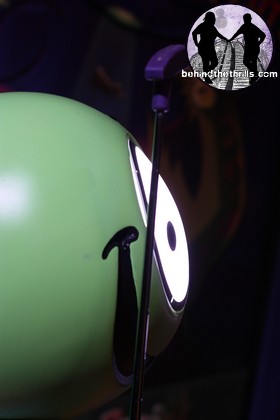 We played this side at night. It has a lot of really neat effects that don't work during the day. If you're able to stay until after the sun sets, I highly recommend playing at night.
httpvh://www.youtube.com/watch?v=7aJkBfOU1YU
Tips to playing the "Sci Fi" side:
On hole 2, aim for the hole on the left. You have better chances of a hole in one!
Watch out for hole 18 – it spins!
Watch for all the little effects at night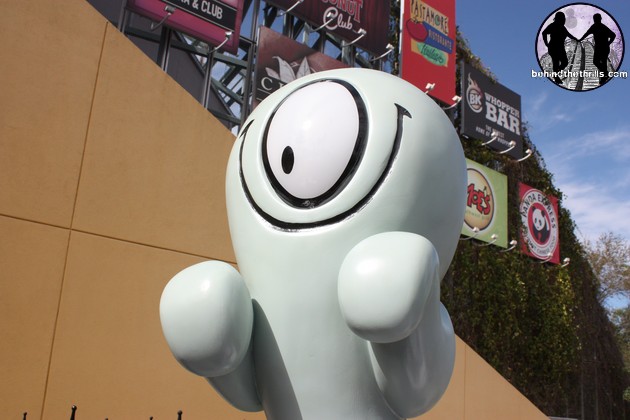 Ghostly Greens is themed to Horror movies, and has all kinds of things you would see in a horror movie: creepy trees, hedge mazes, ghosts, and graves.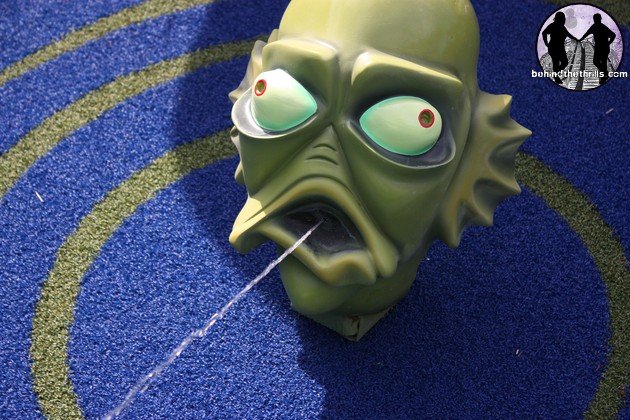 This particular course has a lot more spirit to it than the Sci Fi side and is also a bit easier to play.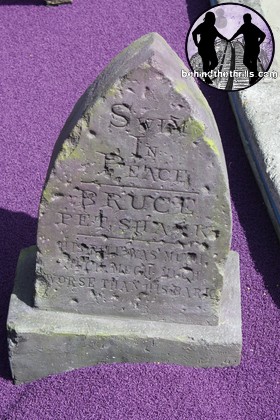 It seems that Universal slipped in a quiet tribute to that bad old shark!
httpvh://www.youtube.com/watch?v=EU4HaE7KpME
Tips to playing the "Horror" side:
Watch out for the Fountain of Fickle. Don't stand too close unless you want to get wet!
Watch out for the creature of the black lagoon. He too will get you wet!
The hole with the skull in the casket is tricky. If you go up the casket and miss the hole, it will spit your ball out the side. Bummer!
Hollywood Drive In is a lot of fun. We played both sides of the golf course. We played "Invaders from Planet Putt" at night and "Haunting of Ghostly Greens" during the day. Both courses have their own unique personality, but I personally enjoyed the Horror side more. Why? Probably because I'm more into horror than I am sci-fi!
Single Feature Pricing:
Adults: $13.99
Kids (Ages 3-9): $11.99
Double Feature Pricing:
Adults: $24.49
Kids (Ages 3-9): $20.99
Yes, it seems a little on the expensive side. In comparison, it is more expensive than Fantasia Golf (Walt Disney) and Congo River Golf, located on International Drive. Is it worth the extra money? The price alone is worth it at night because of the extra effects. Hollywood Drive In also features many effects you won't see at a course on I Drive any time soon, either. Keep in mind that everything is more expensive at theme parks than stores and other tourist attractions. In other words, I'm not saying the price is great and that I'm going to play mini golf every time I go to Universal, but the price is decent for what you get. It's worth playing, but it can get pricey very quickly. Luckily, pass holders get a 10% discount on Mini Golf.
For more information about Hollywood Drive In, visit http://hollywooddriveingolf.com/.