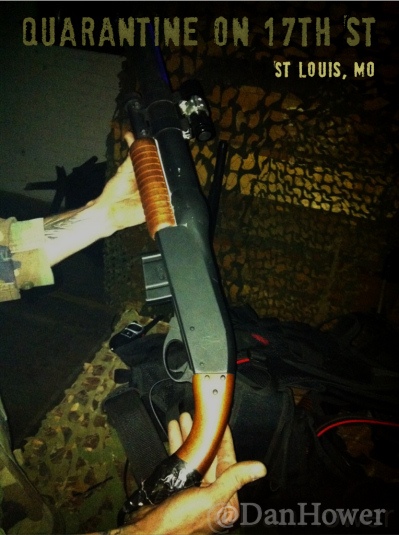 If you want to experience a fully interactive, hands-on haunted attraction like no other, then check out Quarantine at 17th St! By combining classic haunted house elements with hands-on, futuristic technology, Quarantine on 17th St is both a fun and scary attraction!
This one-of-a-kind haunt occupies the entire 7th floor of an old hotel building in downtown Saint Louis, MO. Once arriving on the 7th floor, your quest for survival begins. A group of four proceeds into the unknown darkness. The attraction features components including live actors, changing scenery, moving floors, a chainlink-fence maze, and special effects lighting systems made by Digital Sound & Lighting. As you continue through the attraction, you enter a zombie apocalypse where you are suited up for battle. Equipped with electronic shotguns and tactical vests designed by Stan Jung, your mission is to shoot the lurking zombies before they can attack. A double shot to the head will keep the zombies from crawling after you!
We toured this attraction March 10, 2012 on behalf of Behind The Thrills. The haunt opened its doors for two nights during the annual "Halloween & Attractions Show" held at the America's Center in Saint Louis. This is the first haunt using interactive, hands-on shooting technology and I must say that we were very impressed. We believe the interactive elements of Quarantine on 17th St is paving the way for the future of the haunted industry.
After the tour we caught up with the creator and owner Stan Jung for a interview.

More info at: www.digitalsl.com
Follow all our haunt coverage on twitter:
@BehindThrills