Universal Orlando built their Florida theme park right in the heart of Orlando. This provided them with a central location,but added one big problem. Expansion room. Once the park became popular, it was clear that the park needed more attractions. They added a whole new park in 1999 with Islands of Adventure, but that gave even less room. So with a park with so few option, what could you do? Close older less popular attractions put new ones in their place. So they did. Funtastic World of Hannah Barbera became Jimmy Nuetron. Ghostbusters became Twister. Alfred Hitchcock became Shrek. And of course Kong…well. We all know. As time went on, all the classic attractions were removed for newer ones. Most recently, Jaws was closed to make room for Harry Potter. Now there's word of another attraction. But which one and what will replace it?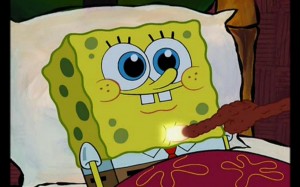 Now before I go any further, I must say first off that this is pure speculation. There is no truth to this…that I know of. This was just a thought of mine that tends to make sense.
Universal Orlando announced that they will be opening a new Nickelodeon store this Spring. There was no direct character related to it, but everyone knew which ones would be presented. Spongebob, Dora and Diego would most likely be front and center.
Then the store construction starts and we get this: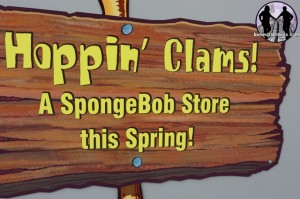 Notice what that says. Specifically a Spongebob Store. Spongebob Squarepants is one of the most prolific characters on Nickelodeon, and possibly one of the most recognized characters outside of Mickey Mouse. Universal has used the character before, but it was used as part of Jimmy Neutron's Nicktoon Blast. There will be a parade this year which features Spongebob and other characters as well.
Then it dawned on me. They aren't just putting a Spongebob store in.
In every single Universal park, save Orlando, the ET attraction has been removed. Many see it as too old and outdated…just like they did with JAWS. It is a classic dark ride, and ET has been at the park in some form or another since the park opened in 1990. With JAWS closed, it is the last remaining original attraction. It also has a huge footprint, takes a lot of space, and requires quite a bit of maintenance. As is the case with most older attractions, the upkeep is tremendous, plus it employs a lot of employees before you even get to the ride. By current standards the ride has a lot of overhead, and are people really that interested in ET anymore? But what will replace it?
Well, Universal is building a Spongebob store. In 2014 Spongebob will release his second feature length animated film. Nickelodeon has also ordered new episodes of Spongebob and he will be featured prominently in Universal Orlando. So all logic would point to there being a Spongebob Dark ride or ride of some kind in the very near future. Since ET is the last remaining original ride, it would appear that it's next on the chopping block.
Keep in mind this is purely speculation.
The only thing that could possibly stand in the way is a contract with Steven Spielberg. Spielberg serves as creative consultant for the park, and many of his films, including ET have been the basis of rides in the park. Of course, JAWS was one of his rides, and that closed earlier this year. The details aren't available for the contract, but it is alleged that one of Spielbergs original concepts must remain in each park. If you do the math, that leaves only ET. Again, we don't know if that's true or not, but this isn't the first time rumors have surfaced about ET closing, yet the little alien escaped closure.
But what do you think if this holds to be true?
On one hand there is no "Timelessness" to the park like there is with Disney. You can't take your kids to the park and experience the same things you did as a kid. At the same time, every time you go to the park there's something new. That's a refreshing change in an industry where tradition and nostalgia take a firm hold on progress and toss it aside.
Let us know what you think in the comments below!