With less than two months until the grand opening of Aquatica Texas, the park is getting closer and closer to completion. Over the last several weeks, Aquatica has been showcasing photos of the nearly-completed park on their blog and Facebook page.
This week, Aquatica has shared two different photos of Sting Ray Falls. The ride is a four-seater raft ride that takes guests into an underwater grotto, bringing guests face to face with sting rays and tropical fish. It is the only ride of it's kind, but it is very similar in concept to the Dolphin Plunge attraction at Aquatica in Orlando, Florida.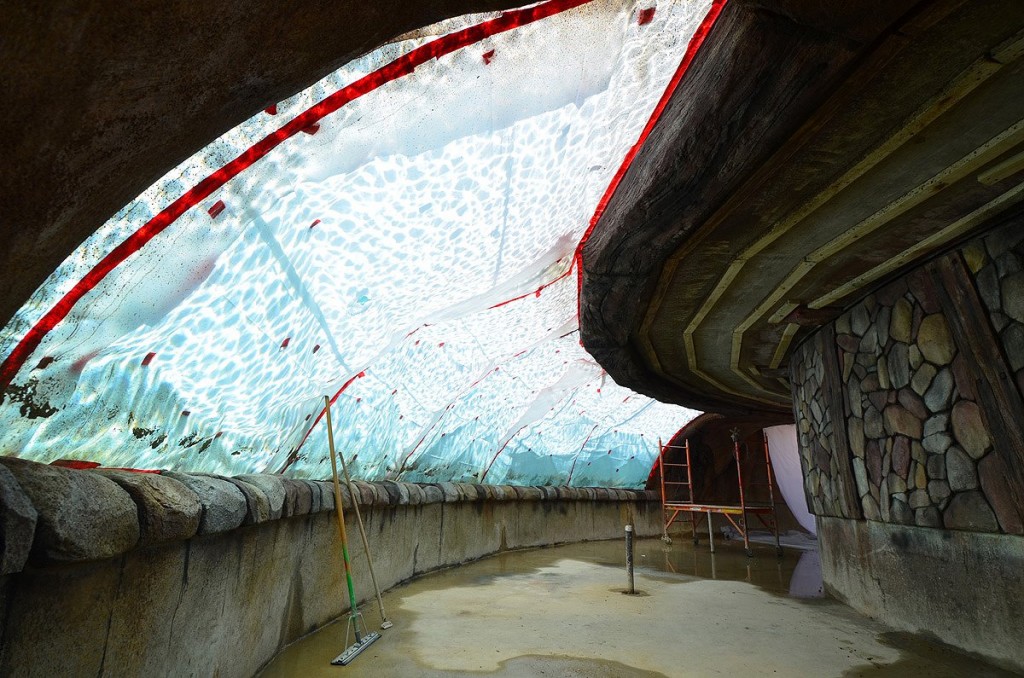 The first photo is an aerial shot from the top of Sting Ray Falls. It offers a great view of the Sting Ray pool below, plus a view of other attractions in the park including Walhalla Wave (green slide) and Tassie's Twisters (purple and orange slides). The second photo is from inside Sting Ray Falls. This is the "under water grotto" described on Aquatica's website where guests will slowly coast through an underwater tube as Rays and tropical fish swim above their heads. Also take notice that the pool has been filled with water. What the next step? Animals!
In comparison to the original Aquatica waterpark in Orlando, Sting Ray Falls seems like it has nailed down one of the many complaints that the Dolphin Plunge receives. While riding the Dolphin Plunge, you are going way too fast to see the dolphins if they are not swimming directly above the tubes (watch the video below so you can see the Dolphins in slow motion). The viewing area for this Sting Ray Falls is a total of 30 feet long and is slated to let gets drift through the tunnel, giving them opportune time to view the animals.
Dolphin Plunge at Aquatica:
httpvh://www.youtube.com/watch?v=BKmmMNaHJ7c
For more information about Aquatica Texas, visit http://aquaticatexas.com.