People are going a tad overboard with this Trayvon Martin situation. I will agree that the man should be in jail awaiting trial. I don't understand why he was not arrested, and at least held. I will also agree that everyone is now turning the shooter into the victim. Everyone is turning this into a racist situation..it very may well be, but the one thing to remember is that this guy is a hothead. He's a self appointed neighborhood watch person, and he wasn't even watching his neighborhood. The police botched the investigation. The guy is a hotheaded idiot.
But let's calm the civil rights leaders, and racial slurs and anger down. The majority of everyone sees what's going on in this case. The majority of everyone is calling out the officials for not doing their jobs properly. It might have started out as a white on black hate crime, but it's evolved, changed into what it should be in the first place. It's a crime on a kid who may or may not been up to mischief. The kid didn't deserve to die for that.
Now you have people acting just like the guy who shot the kid….stupid. No reason to put someone's address out in a public forum. What do you want the public to do? Lynch the guy? Kind of ironic don't you think? And you were so stupid and hotheaded that you put the address out of an elderly couple who had nothing to do with the case. I hope they get the money they deserve for your ignorance.
Let's all relax. The public, and celebrities have called out the police in this case. We've finally united on one front. Now let's watch and hope that justice is served, and not turn on one another just because of the color of our skin. Let's keep things peaceful. It's a flawed system, but that's why we all need to watch it and be involved peacefully…it's the only one we have.
All my theme park news is saying is…GIVE PEACE A CHANCE!
Disney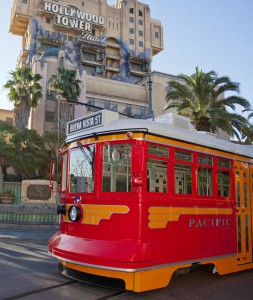 Disney's California Adventure released pictures of the new Red Car Trolley that will be making round through the all new Buena Vista Street when it fully opens later this year. More pictures
Princess Meridia is destined to become the next Disney Princess. Pixar's Brave opens in theaters June 22nd, but starting in May guests at both Disneyland and the Magic Kingdom will be able to meet the red haired beauty in person.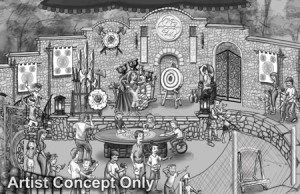 At the Magic Kingdom the Fairytale Garden will be the spot where guests can meet Meridia in a castle backdrop.


Over at Disneyland an archery course will be brought to life near "It's a Small World".
More details
Epic Mickey 2 will be hitting store shelves this October 1st as Mickey Mouse joins forces with Oswald the Lucky Rabbit. The game will also escape the Wii and be on all gaming platforms as well. Full story
In America Disney fans have Duffy the Bear, in Tokyo they have Yumeno Maihama. She is an anime character in an ad for the 20th anniversary of Tokyo Disneyland. The commercial shows Yumeno in various stages in her life, and is expertly animated in that traditional anime style
httpvh://www.youtube.com/watch?v=clFq7xwxV-Q&feature=player_embedded
Six Flags
Something about Six Flags screams bad movie promotions. Last year the parks bombarded guests in line with Smurf movie trailers every 90 seconds. This year it will be the Three Stooges looking to make an impression on audiences. Six Flags has announced that they will celebrate "April Stooge Day" in it's parks. Not only will the park have the trailer for the film in line, but also will rename a few of their rides in honor such as "Curly's Colossus" and will feature the characters from the film in food advertising and even will feature a "Three Stooges look alike contest" in some of their parks.
Participating parks:
Atlanta – Six Flags Over Georgia
Dallas – Six Flags Over Texas
Los Angeles – Six Flags Magic Mountain
San Antonio – Six Flags Fiesta Texas
San Francisco – Six Flags Discovery Kingdom
Washington, DC/Baltimore – Six Flags America
More details
Darien Lake will reopen Ride of Steel after it closed last year due to two accidents. First a disabled veteran was thrown from the coaster after he was allowed on the ride, when ride manufactures regulations specifically forbid people with amputations from riding. Second the chain on the lift hill broke, leaving riders stranded. The coaster will open with the park on May 12th. More details
Speaking of Darien Lake, the park has spent $5million in upgrades during the down season. They have replaced the Thomas The Tank show with Beaver Mania…part of the new Beaver Brothers Bay. Hey…that sounds like a few movies I've seen…alone with a bottle of lube. Moving on. The park will also open Rowdy Ridge, a new kids area that will feature three new kid rides. Full story
Other
Dinosaurs Alive, which took Kings Island by storm is coming to several other Cedar Fair parks this season, including Cedar Point. Cedar Point fans are livid on their Facebook page that it's not a new coaster (no surprise there) and appalled that it will cost an extra five dollars. Not the most expensive thing in the park, I'm sure. Still, the park has released a preview video that gives a look at the new "Larger than Life" attraction.

Speaking of Dinosaurs and Cedar Fair, Kings Dominion will also receive Dinosaurs Alive. The park will also get a 3D Dinosaur movie that will accompany the exhibit, but will be included with regular park admission
httpvh://www.youtube.com/watch?v=JN_2fTtGTbM&feature=player_embedded
Lake Winnepesaukah is celebrating 85 years! To celebrate, the Chattanooga park will be offereing smartphone users a chance to play and win a four pack of season passes. More details
Morey's Piers will be celebrating Easter this year with face painting, stilt walkers and more! Kids under 12 can pick an Easter Egg to win eggciting prizes and can help decorate the "Monster Mural". Visit the official website for more details
Whitewater has announced that they will be adding "Constrictor" a slide with the tightest turns in the industry to the all new Russian waterpark in Georgia in the all new city of Anaklia

Do you want to see sequels to the original Star Wars film? Tough shit. George Lucas has said it will never happen

Back in the 80's Arnold and Danny Devito did a film called Twins, in which they played twin brothers separated at birth. There appears to be a story going around that a sequel to that film called "Triplets" will be made and star Eddie Murphy as the 3rd brother. Holy crap. More details
Speaking of sequels to long lost films…Ron Burgundy made an announcement
httpvh://www.youtube.com/watch?v=MrNA7RjU91I&feature=player_embedded
In unrelated news, my dad will be filing a lawsuit against Ron Burgundy for likeness rights…


Yes, that is really my father. Yes he really did look like that, and yes he did the news back in the day.
Finally, a trailer for the upcoming Christmas film "Rise of the Guardians" that has a Russian Santa Claus and looks to be the kind of film that makes me cry…don't judge me
httpvh://www.youtube.com/watch?v=aPLiBxhoug0