Here at Behind the Thrills, we love us some Theme Parks. No doubt about it. However, there is a great big world out there, and sometimes we need to take a step out of the parks and look at something else. Join us as we take a look outside of the world of theme parks and into the world of movies, music, television, comics, hotels… Pretty much anything else we happen to stumble across Whatever we look at will have some relation to the theme park world, granted not directly, but in a round about sort of way. So join us now as lift the safety harnesses, throw out our cup of Butterbeer, and take a walk… Offsite.
Day 2 of WonderCon came, then passed and saw huge crowds, huge movies, and huge announcements, completely opposite of Day 1 which had more of a relaxed, slow paced feel. Today we are going to take you further into the show floor and into the world of Marvel Television. We will also take a look at huge blockbusters including Battleship, Resident Evil 5, as well as Lockout and The Amazing Spider-Man.
Marvel Television/DisneyXD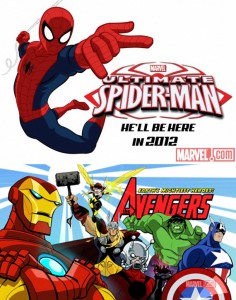 The first panel of the day was showcasing Marvel TV on DisneyXD. It started off with announcing two brand new things coming to Marvel's current block on DisneyXD. The Marvel Mash-Up, which consists of over-dubbing new comedic audio over the classic Marvel animated series', which was followed by never before seen test footage of a brand new series titled HULK and the Agent's of S.M.A.S.H. After the two announcements were made they moved quickly to premiere the pilot episode of the new highly anticipated Ultimate Spider-Man cartoon, as well as the season 2 premiere of Avengers: Earths Mightiest Heroes. Both shows were very well received by the audience and really showed the great potential of Disney/Marvel. Both Ultimate Spider-Man and Season 2 of The Avengers: Earth's Mightiest Heroes premiere April 1, 2012, only on DisneyXD.
Battleship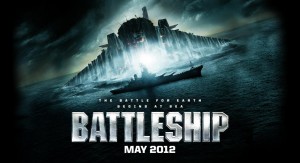 Later in the day, thousands of fans gathered into the 3rd floor ballroom to catch a glimpse at this years biggest blockbuster films. In attendance for the panel was the beautiful Brooklyn Decker, actor Alexander Skarsgard, and Director Peter Berg. The director really wanted to emphasize what his overall vision was for the film. So the first clip that was shown included actor Taylor Kitsche who plays Alex and Alexander Skarsgard, Alex's older brother. They are at a bar celebrating Alex's birthday and the beautiful character Samantha enters and Alex jumps at the opportunity to impress her which resulted in a hilarious sequence in which Alex breaks into a liquor store in order to retrieve a chicken burrito for Brooklyn Decker's character.
Afterwards, they showed a second clip which included the reveal of what these aliens actually look like, which is a bizzare humanoid, similar to an orc from Lord of the Rings. After they find out that their vessel had been breached and their were aliens walking through it's corridors and it becomes a militaristic squad-based sequence which resulted in quite a dramatic finale. The panel ended with a brand new never before seen trailer of Battleship which will be released with The Hunger Games.
Director Peter Berg stated, "This may not be the biggest movie ever, but we certainly have the biggest guns". Battleship hits theaters in May 2012.
Lockout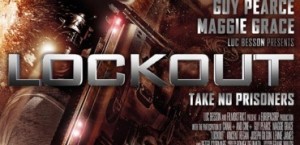 Next up is Lockout, the new sci-fi drama/thriller that takes place in a futuristic space-prison orbiting earth. In attendance was the film's producer Luc Besson, and actress Maggie Grace. The first thing audiences saw was the current  theatrical trailer, reintroducing us into the world that Lockout takes place.  Afterwards we were shown 5 minutes of an insistence sequence involving a massive gravity torsion device which spins at an incredible speed, and a fight scene that takes place floating right above it using artificial gravity. Also we are thrust into a hostage situation where the escaped convicts use scientists to break into a room holding the president's daughter (Grace) and her bodyguard. The clip really showed how crazy the inmates are. These are not your Con Air convicts. These guys live for madness. The movie comes out April 20, 2012.
Resident Evil Retribution
Also today at WonderCon, Sony Screen Gems showcased the newest film in the Resident Evil franchise, Resident Evil: Retribution. The movie continues directly after Resident Evil 4 (Afterlife). Director Paul W. S. Anderson took the stage to set up the film, he presented a quick synopsis and told audiences of the true global scale of the movie, and that older characters from the video game series and movie series will be returning for since a large portion of the movie will take place before the actual T-Virus broke out. After successfully hyping the film to con-goers, Anderson introduced his beautiful wife and star of the movie series Milla Jovovich. Soon after the audience was given 3D glasses and a 4-5 minute clip played showcasing how much of a bad-ass Milla Jovovich is. Lot's of 3d gags, lots of amazing wire-work, and of coarse lots of unique zombie killing. The 3D looked great, and it seemed like this film will be one of the better installations of the series, and director Paul W.D. Anderson stated that this will be the set-up feature for a 6th and final Resident Evil feature. Look for Resident Evil: Retribution in theaters September 14, 2012.
The Amazing Spider-Man
By far the most anticipated panel of WonderCon is the Amazing Spider-Man panel. In attendance was the lovely Emma Stone, playing the role of Gwen Stacey, and Director Marc Webb. Marc wanted to remind audiences how different this movie really is to the other Spider-Man films. He mentioned that this film will focus more on the personal life of Peter Parker, and have some heavily dramatic moments. But the real draw of the panel was the nearly 10 minutes of footage that was shown exclusively to those in attendance.  Included were bits of Peter outsmarting and standing up to his high-school rival Flash Thompson. Some fight scenes with Spider-Man and The Lizard. As well as some more dramatic scenes with Gwen and Peter. Spider-Man looks like it's going to be a huge hit. The Amazing Spider-Man swings into theaters July 3, 2012.
Show Floor
Now that we've taken a look into some of this summers biggest blockbusters. Let's head downstairs to Hall E where more of the action is taking place.
Looking for collectables and toys? There truly was something for every breed of geekdum.
Perhaps your preference is building Gundam model kits?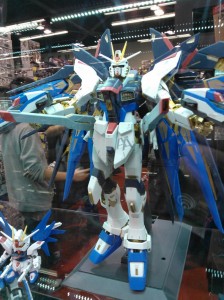 Even the video gamers had some love at this convetion.
Cos-players
To end my WonderCon 2012 Coverage, I though i'd end with a big bang,  some images of the awesome Cos-players who really are dedicated to their hobby. The past two days have been a mix of some incredibly crafted works of art, and half-naked beautiful women. Both good in my opinion.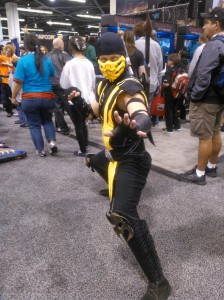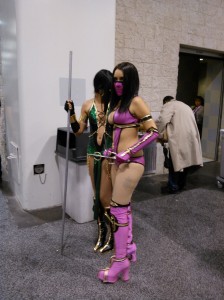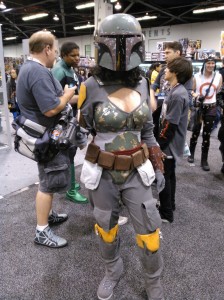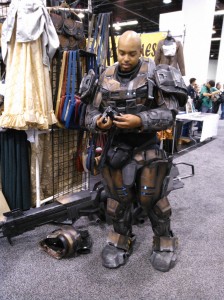 Beep, Beep.
That's it for my WonderCon 2012 coverage! Thank you guys for checking it out! Be sure to check out additional images in the photo gallery of both days. The event was a huge success for both Comic-Con International, and the city of Anaheim. Hopefully CCI will see the true potential of the great city and move WonderCon to Anaheim permanently or at least offer  new alternative event for the city, WonderCon South?