Aquatica San Antonio will be a great place to relax when it opens in just 39 days! With white sandy beaches, cool waters, and tropical fish, it's easy to find somewhere to relax. When the park opens, it will also offer the ultimate spot to relax, refresh your sun screen, and stay cool during the summer heat. Although this will be an extra cost item, it offers great perks for the price.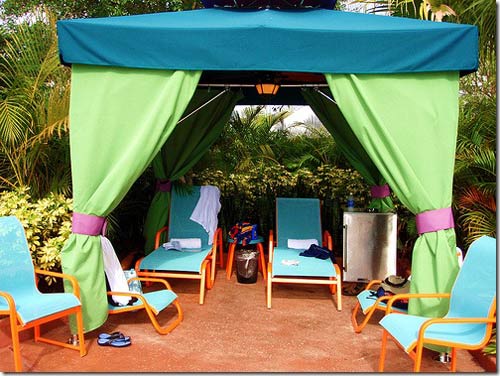 Cabanas and Lockers are now on sale at Aquatica San Antonio. Of course, you must reserve in advance by calling 800-700-7786 or by making your reservation at the gate on the date of your visit.
For just $199, the Standard Cabana offers a locker for all day use, a ceiling fan, mini fridge, 12 bottles of water, 4 souvenir towels, sun screen. Pricing is for up to four guests. For and additional fee, cabanas can accommodate up to six guests. Aquatica also offers a Premium Cabana for just $50 more. It includes everything the standard cabana does plus in-cabana dining options, a view overlooking the Whanau waters, and upgraded furniture.
You can also reserve your locker in advance. The locker is all day use and you can go in and out of it as many times as you would like. The locker is only $7, but Aquatica requires you put an additional $10 down as a deposit. When you return your key before you leave the park, you'll get your deposit back.
On top of all of that, Aquatica Texas has also opened up reservations for their Stingray Encounter. For just $20, you can wade with sting rays and feed them. The program also includes one photo and you can purchase a photo package later on if you choose to do so.
Pass members get a 20% discount and team members get a 30% discount. Pass members should visit PassMemberUpdates.com to book their cabana and team members should call the number listed above.
Aquatica San Antonio admission is required to use the lockers or the cabanas. To purchase your tickets or to reserve your locker or cabana, visit http://aquaticatexas.com.