According to Busch Gardens Williamsburg's blog, they will be hosting an exclusive VIP "launching party" on Thursday, May 17th for social media from 5:30pm until 9:30pm. The park is looking to invite a total of 25 people plus a guest to experience Verbolten and post about it on their social media channels, such as Twitter, Facebook, Tumblr, Foursquare, Et ectra.
Busch Gardens also held a contest back in February for a select group to attend a behind the scenes construction tour of Verbolten.
There are just a few rules you must follow in order to submit an entry.
Entrants must be 18 years or older
Entrants must not be employees of SeaWorld Parks and Entertainment or a family member of an employee
No inappropriate language. Entries with inappropriate language will be disqualified.
Here's how to enter:
Save the contest image to your computer. Right click here and click "Save Link As" to download the image.
Replace the white circles of the faces of the people with a picture of yourself and your guest. Add something cool to the speech bubble (no inappropriate language) and save it. See below for an example, provided by Busch Gardens.
Send socialmedia@buschgardens.com an email with your subject as "Verbolten VIP Event Contest" by Friday, April 27th. In the body of your email, write a short blurb (200-300 words) on why you and your guest want to attend the VIP event.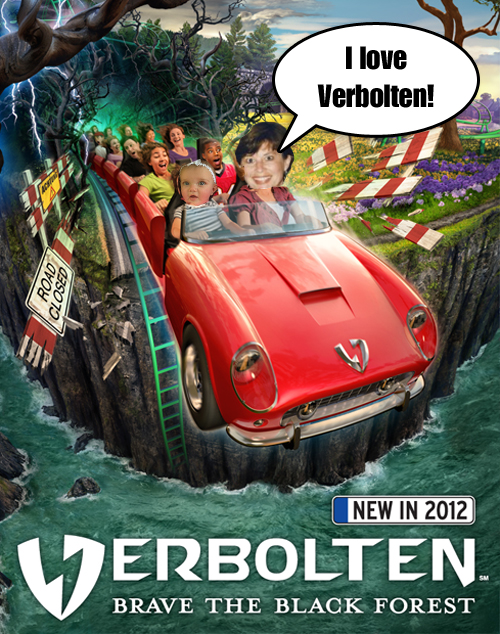 Good luck to everyone who enters! For more information about Verbolten, visit http://verbolten.com.