"After Disney: The Other Orlando" is the perfect title for this book. While Disney is a huge attraction within Orlando and offers a vacation within itself, there is a ton of other stuff to do in Orlando. This book covers everything that is not Disney. If  you and your family have already visited Disney or Disney is out of your budget, this book is the perfect for planning your non-Disney trip.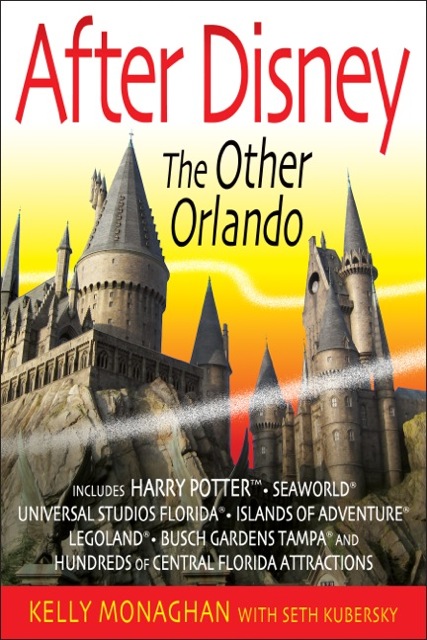 The book offers information on several attractions in Orlando, including: Universal Studios Florida, Islands of Adventure, Wet and Wild, Seaworld, Citywalk, Aquatica, Busch Gardens Tampa, Gatorland, Adventure Island, Kennedy Space Center, Discovery Cove, Legoland Florida, The Holy Land Experience,  several dinner attractions, and several "roadside attractions".
"After Disney" is far from a novel, but it has tons of helpful information from cover to cover about many attractions in Orlando. If you're looking for any kind of information on an attraction in Orlando, you can pretty much bet it's in the book in some form or another. I spend a lot of time at Universal and read all three Universal sections and learned at least one thing I did not know about Universal. Even as a local, I found this book to be helpful and informative.
I highly recommend purchasing this book before planning your next trip to Orlando. It offers insight on ticketing options, tips on how to make the most of your day at parks, and even information on new and upcoming attractions. You can pick up a copy of this book new for about $17.95 in a book store, or you can try looking for a copy on Amazon.com at a slightly lower price.
Click the link below to purchase your copy of "After Disney: The Other Orlando" today.
To complete this book even further, there is also an "online" version of this book that offers updates. Obviously at the time the book was written, many attractions were still in the "construction" phases. Specifically: Minion Mayhem, Hollywood Drive In, Cinematic Spectacular, Universal Superstar Parade, and Freshwater Oasis for starters. You can read updated information by
clicking here
(the book also mentions this link several times if you forget).
This books is hands down one of the most informative travel books I have read outside of the realms of Universal Orlando. It's not only great for tourists, but it's great for locals too. If you've lived in Orlando your entire life, you might learn something new inside this book (I know I did, even though I have only lived in Florida for three years). Kelly Monaghan and Seth Kubersky, the authors of this book, did a wonderful job with this book. It's a must read!
For other travel related books, visit the publisher's official website, http://intrepidtraveler.com/.