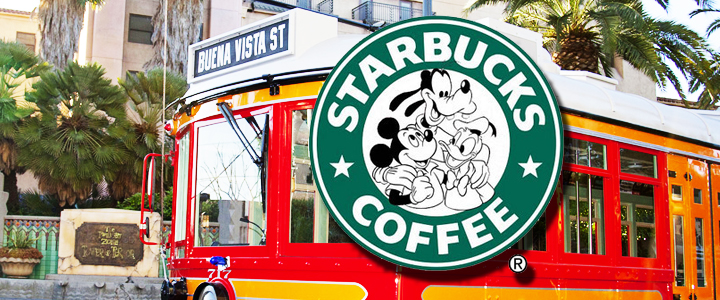 Today the Walt Disney Co. announced something which has been  in the rumor mill for years now. Starbucks Coffee will open inside of an operating Disney Park. The first is expected to open at Disney California Adventure this June as part of the Fiddler, Fifer and Practical Café when Buena Vista Street is revealed to the world. Five other locations are expected to open at Disneyland, The Magic Kingdom, Disney's Animal Kingdom, Epcot, and Disney's Hollywood Studios. While the locations will be serving Starbucks Coffee prepared by official Starbucks baristas, there will not be an official Starbucks Coffee store front, at least in the case of Disney California Adventure.
Here is the official press release via the DisneyParks Blog.
Today, we're excited to officially announce plans to bring your favorite Starbucks drinks and food items to all of our theme parks at Disneyland Resort and Walt Disney World Resort.

In June, the first of six planned Starbucks locations is scheduled to open at Disney California Adventure park. And more locations are planned at Disneyland park and Walt Disney World Resort (Magic Kingdom Park, Epcot, Disney's Hollywood Studios and Disney's Animal Kingdom).

The Starbucks locations inside our parks will be designed to fit the theme of their surroundings. At Disney California Adventure park, Starbucks will be located in the Fiddler, Fifer and Practical Café on Buena Vista Street, a place that transports guests to 1920s Los Angeles, when Walt Disney arrived in California and a cup of coffee was the perfect way to jumpstart a busy day. The store's location plays off the Spanish/Mexican architecture of the period, and baristas will wear 1920s-inspired attire.

The café will serve Starbucks items, including coffee and espresso beverages, Frappuccino® blended beverages, and signature breakfast sandwiches and pastries. Guests also will have their choice of Disney favorites, including signature sandwiches and other items, as well as delicious desserts and sweet treats.
Are you excited for Starbucks being introduced into DisneyParks?
Check back for the latest in Disney Theme Parks news!
For more information and the latest about DisneyParks world wide, please visit the DisneyParks Blog