So we are pretty lucky to live in Florida…for the most part. We experience very little winter, we get parks open year round and we have some of the best bikini watching ever. But it's really a pain in the ass to get out of here. It literally takes us about 5 hours just to get out of the state. We can't really fly that much because, let's face it, it's too damn expensive to fly on our budget. Taking a family vacation is a nightmare because we are in the center of the state…not quite Orlando…but too far north to do anything good in South Florida. It's really not that bad, but our kids hate Orlando because we have to drive almost two hours to get there…we have to drive two hours really to get anywhere. So the next time you bitch that your park is closed, be thankful that you are within a few hours drive to more than just one park.
My theme park news wants to see mountains again, Gandalf!
Disney
The Voices of Liberty, an 8 piece a cappella group has been a staple at Walt Disney World for years. Now they are coming to Disneyland at the Main Street Opera House
httpvh://youtu.be/cHY8qYdBulw
Since construction is wrapping up at Disney's California Adventure, the Pixar Play Parade will be returning June 15th. The current shortened versions will end April 29th. Full Story
httpvh://youtu.be/YKPxe56Dk1A
If it's been your dream to eat dinner with someone who has that "fishy" smell, your dreams will come true June 15th when Arial's Grotto opens for character dining. What did you think I meant? Perverts. The area will be serving breakfast, lunch and dinner and will feature Ariel and all her princess friends. Full story
We've told you that Princess Merida from Pixar's upcoming Brave will be heading to both Walt Disney World and Disneyland this summer for meet and greets. What you didn't know is that Disney wants actual Scottish Gingers to play the part. They are going for authenticity here. So if you're a Scottish Ginger…soul or not….you need to apply. And for the record, Racheal is a ginger..and has a soul. A sense of humor? Eh..debatable. Full story
The teaser poster for the upcoming Disney animated feature Wreck-It Ralph has hit. The movie will take place in a video game arcade where the 8 bit character Ralph is the villain of the game who dreams of being the good guy.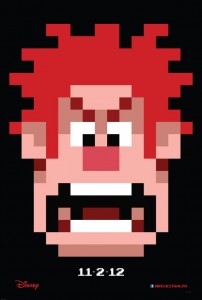 Gotta say I love the 8 bit!
Another look at the animated series Tron:Uprising

Other
Dippin Dots, the staple Ice Cream product for many theme parks is going bankrupt. Instead of closing shop, however, they are selling to an Oklahoma firm who will keep things the way they are, and hopefully expand Dippin Dots. The firm will pay $12.7 million for the Kentucky based company and keep the over 100 employees and factory running. Full Story
Fun bit of information. The Louvre art museum in France is doing away with outdated audio guides and replacing them with Nintendo 3DS guides. The guides will be touch screen and offer only a sliver of the exhibits at first but will eventually expand if the system proves to be popular enough. Full story
Six Flags Magic Mountain is teaming up with 7-11 stores to offer slurpees in the park. This is the first time the drinks have been offered outside the park. The park will also offer fried snickers and bacon topped funnel cakes. Combine that with the all new 400 foot Lex Luthor Drop Tower and you have a heart attack waiting to happen. Full story
A few details have been released about the new Roller Coaster Tycoon 4 for the Nintendo 3DS. The new game will have a story mode in which a tycoon doesn't have time for his son so he lets him build his own theme park to make up for being a deadbeat dad. Sounds touching. The game should be hitting consoles this year. Full story
The Transformers have invaded the Staples Center as a huge Decpticon crashed through the walls. This is all in preparation for the new Transformers ride at Universal Hollywood. Full story
Three dumbasses stole a penguin from Australia's Sea World park and freed it back into the ocean. Problem? The water was too cold for this species which prefers warmer water, and the area is known to be infested with sharks, which chased the bird out of the water. Full story